The vascular flora of Porto Ferreira State Park: an ecotonal area in São Paulo State, southeastern Brazil
Keywords:
Atlantic Forest, Cerrado, floristic, protected area, seasonal semideciduous forest
Abstract
Abstract: The Porto Ferreira State Park (PFSP) is located in the State of São Paulo southeastern Brazil, in an intriguing transitional area between the Atlantic Forest and Cerrado - both hotspots of biodiversity - represented mainly by the cerradão (CER), and the seasonal semideciduous forest (SSF), with its alluvial variation vegetation type (riparian forest - RP). Ecotonal areas play an important role in providing ecological and phytogeographic knowledge regarding the flora and vegetation of this region. Despite various studies on the PFSP, knowledge of this region remains fragmented. In this study, we aim to conduct an updated checklist of the PFSP vascular flora, including a compilation of all the studies conducted in this protected area, plus field work carried out by the authors from 2014 to 2017. In addition, given its ecotonal characteristics, we completed a floristic similarity analysis between the PFSP and other floristic surveys that examined the same vegetation types present in this study, to gain a better understanding of their phytogeographic relationships. Overall, 684 species, belonging to 387 genera and 107 families, were recorded. The SSF presented the richest vegetation type (478 species), followed by the CER (418) and the RP (231). The most diverse families were Fabaceae (64 species), Myrtaceae (41), Orchidaceae (39), Rubiaceae (37), Asteraceae (35), Bignoniaceae (26) and Malvaceae (20). Moreover, eight threatened species, at regional and national levels, were found. To date, 412 species have been added to the floristic list produced for the PFSP. The life forms with the highest number of species were trees (286 species), herbs (176) plus shrubs and subshrubs (123). Our research findings indicate floristic patterns with higher levels of similarity among species in geographical proximity, including those in ecotonal areas encompassing different vegetation types. These results rank the PFSP among some of the most species-rich conservation units with seasonal climates, and therefore is of great importance for plant conservation in the southeast of Brazil.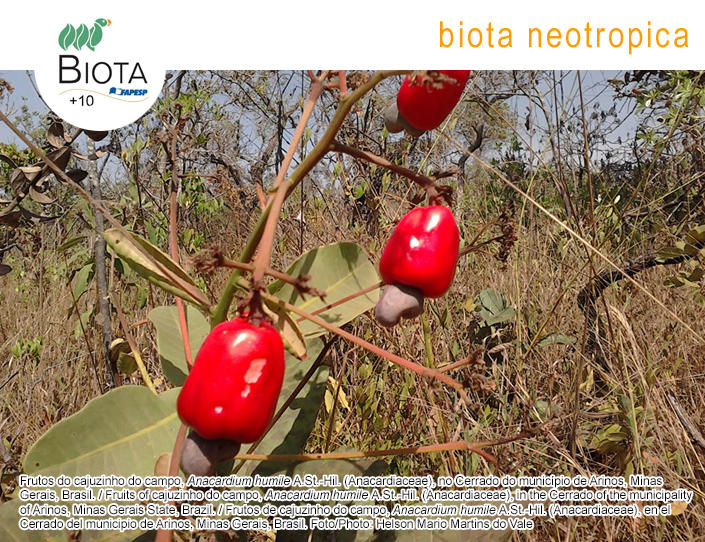 How to Cite
Sabino, G. P., Kamimura, V. de A., Borgiani, R., Konopczyk, R., Dickfeldt, E. P., Bertoni, J. E. de A., Evangelista, S. A. de S., & Marcusso, G. M. (2021). The vascular flora of Porto Ferreira State Park: an ecotonal area in São Paulo State, southeastern Brazil. Biota Neotropica, 21(4). Retrieved from //www.biotaneotropica.org.br/BN/article/view/1868
License
Copyright (c) 2021 Biota Neotropica
This work is licensed under a Creative Commons Attribution-NonCommercial 4.0 International License.