Yeasts in native fruits from Brazilian neotropical savannah: occurrence, diversity and enzymatic potential
Keywords:
hydrolytic enzymes, Candida, Cerrado domain, Meyerozyma, fruit pulp
Abstract
Abstract: Cerrado is the second largest phytogeographic domain in Brazil, with a huge ethnobotany variety, including fruit species that stand out for their economic, industrial, biotechnological and medicinal potential. The objective of this study was to characterize the diversity of culturable yeasts and their potential for the production of hydrolytic enzymes in fruits of 13 species of native plants of the Cerrado in Brazil. Sequencing the 26S rRNA gene identified the isolates. The enzymatic potential was evaluated using specific substrates for the enzymes amylases, cellulases, proteases, and pectinases. Nine of the 13 fruit species analyzed showed yeast growth, totaling 82 isolates, identified in 26 species. The phylum Ascomycota predominated over Basidiomycota. The fruits of Butia capitata presented the highest species richness. Candida and Meyerozyma were the most frequent genera. About 57% of the isolates were able to produce at least one of the enzymes analyzed. The species Papiliotrema flavescens, Hanseniaspora meyeri, Meyerozyma guilliermondii, and Rhodotorula mucilaginosa produced all the enzymes tested. The results were found to expand the knowledge about the yeast communities present in fruits of the Cerrado native plants, evidencing the presence of species shared among the plants, and their potential for biotechnological use in the future.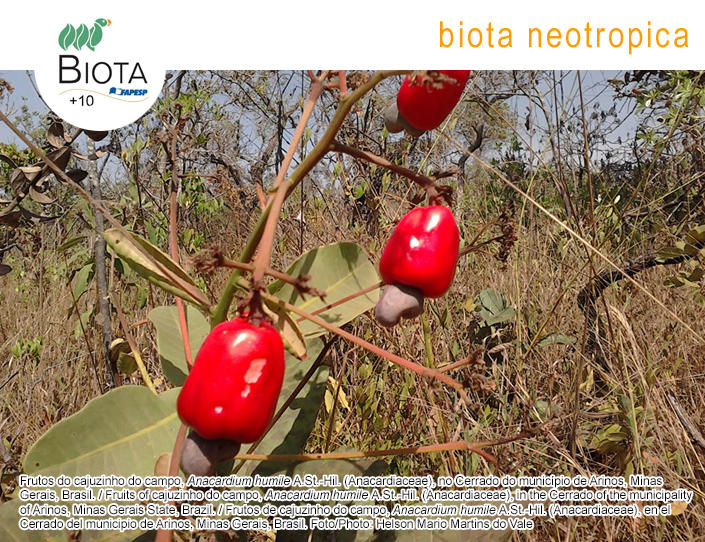 How to Cite
Vale, H. M. M. do, Reis, J. B. A. dos, Oliveira, M. de, Moreira, G. A. M., & Bomfim, C. A. (2021). Yeasts in native fruits from Brazilian neotropical savannah: occurrence, diversity and enzymatic potential. Biota Neotropica, 21(4). Retrieved from //www.biotaneotropica.org.br/BN/article/view/1854