Non-marine invasive gastropods on Ilha Grande (Angra dos Reis, Rio de Janeiro, Brazil): distribution and implications for conservation
Keywords:
Achatina fulica, Melanoides tuberculata, Physa acuta, non-native species, Gastropoda
Abstract
Abstract Invasive species are one of the main causes of biodiversity loss and the knowledge of their distribution is essential for conservation efforts. The present study inventoried the land and freshwater invasive molluscs of 25 villages of Ilha Grande (Rio de Janeiro, Brazil), an island with Atlantic Rainforest remnants. Three invasive species are found: Melanoides tuberculata (Müller, 1774), Physa acuta Draparnaud, 1805, both on two localities; and Achatina fulica Bowdich, 1822, on 16 localities. Most records were done on the island continental side, in anthropic areas, probably due to ease of access. One record was inside a conservation area, that calls concern about the spread of those species on the island and possible effects.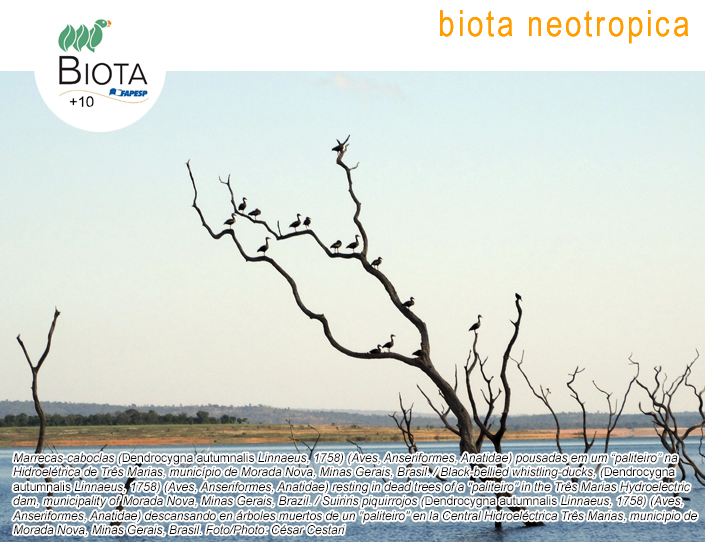 How to Cite
Oliveira, J. L. de, Miyahira, I. C., Gonçalves, I. C. B., Ximenes, R. F., Lacerda, L. E. M. de, Silva, P. S. C. da, Fonseca, F. C., Barbosa, A. B., Nunes, G. K. M., & Santos, S. B. dos. (2020). Non-marine invasive gastropods on Ilha Grande (Angra dos Reis, Rio de Janeiro, Brazil): distribution and implications for conservation. Biota Neotropica, 20(3). Retrieved from https://www.biotaneotropica.org.br/BN/article/view/1755