Snakes in a seasonally dry tropical forest in northeastern Brazil
Keywords:
Biodiversity, faunistic, similarities, Serpentes, species, richness, semiarid, region
Abstract
Abstract: This study aimed to provide information on composition, abundance, and estimated snakes richness in an area of arboreal Caatinga (seasonally dry tropical forest) and analyze patterns of faunistic similarity between assemblages of snakes in the semiarid region of northeastern Brazil. The snakes found within the Fazenda Almas Natural Private Reserve (RPPN Fazenda Almas) were sampled during a 10-year period, with monthly monitoring, employing time constrained search, pitfall traps with drift fences, and donations from local collectors. Twenty-two snake species were recorded, with a predominance of terrestrial species with diurnal-nocturnal activity patterns. The species accumulation curves reached its asymptote, indicating that all possible species in the study area had been recorded. Our results indicated that the snake fauna in the study area is similar to other snake assemblages in localities with Caatinga vegetation in the Sertaneja Depression ("Depressão Sertaneja") drylands, and that those assemblages constitute faunistic units typical of the interior of northeastern Brazil.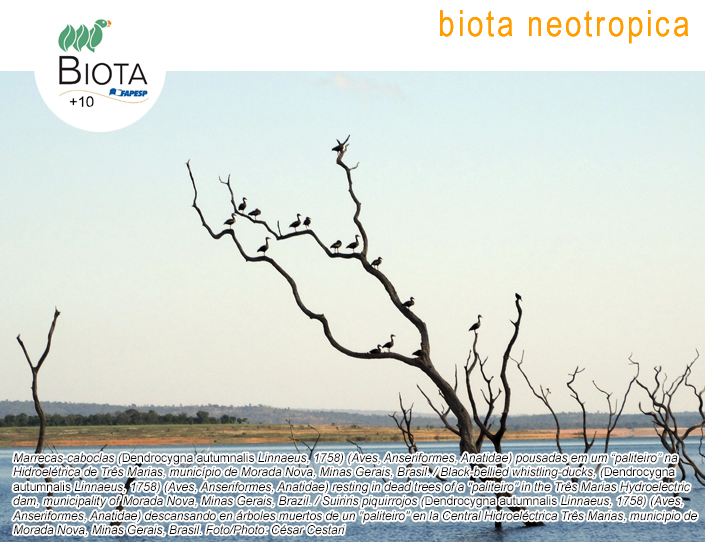 How to Cite
Vieira, W. L. S., Brito, J. A. M., Morais, E. R. de, Vieira, D. C., Vieira, K. S., & Freire, E. M. X. (2020). Snakes in a seasonally dry tropical forest in northeastern Brazil. Biota Neotropica, 20(3). Retrieved from https://www.biotaneotropica.org.br/BN/article/view/1750