Predation on Tropidurus hispidus (Squamata: Tropiduridae) by Lasiodora klugi (Aranea: Theraphosidae) in the semiarid caatinga region of northeastern Brazil
Keywords:
natural history, prey-predator relationships, Lacertilia, Mygalomorphae, semiarid environment
Abstract
A predation event on Tropidurus hispidus (Tropiduridae) by the crab spider Lasiodora klugi (Theraphosidae) was observed in an arboreal caatinga area in northeastern Brazil. Arthropods are potential predators of small vertebrates and researchers have reported predation events involving spiders and herpetofauna in Neotropical regions. As such, the present short communication is the second case of predation of spiders on Tropidurus lizards in Brazil, and the first for the semiarid caatinga, reinforcing the argument that large spiders have relevant roles as predators of these animals.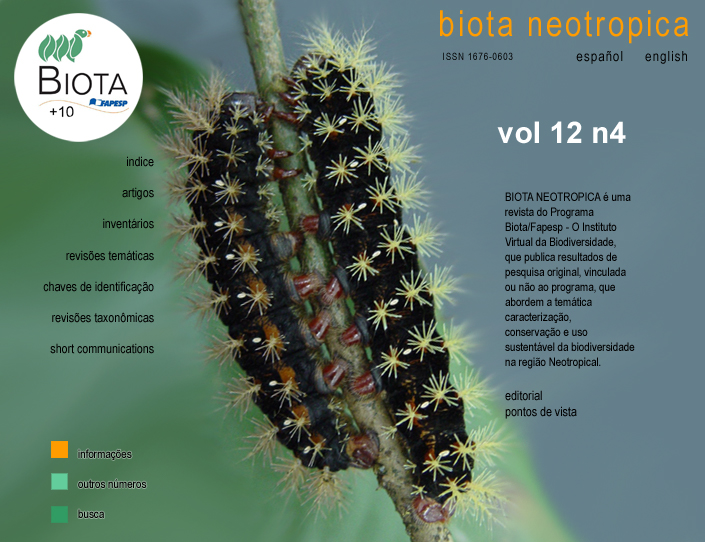 How to Cite
Vieira, W. L. S., Gonçalves, M. B. R., & Nóbrega, R. P. (2012). Predation on Tropidurus hispidus (Squamata: Tropiduridae) by Lasiodora klugi (Aranea: Theraphosidae) in the semiarid caatinga region of northeastern Brazil. Biota Neotropica, 12(4). Retrieved from https://www.biotaneotropica.org.br/BN/article/view/1044
Section
Short Communications