Lycophytes of the Chapada das Mesas National Park, Cerrado, Maranhão, Brazil
Keywords:
Riparian forest, Selaginella, Taxonomy, Waterfall
Abstract
Abstract: Despite an increase in studies involving lycophytes and ferns in recent years, Maranhão is still one of the northeastern states with a poorly known flora, mainly due to low sampling. For Chapada das Mesas National Park, a protected conservation unit in the Cerrado maranhense with phytophysiognomies that favor floristic diversity, there are no floristic studies about lycophytes. This study aimed to conduct the floristic inventory and taxonomic study of lycophytes in Chapada das Mesas National Park. Three collection expeditions, of three days each, were made between March 2017 and June 2018. Three families of lycophytes represented by three genera and six species were identified in the study area. The most diverse family was Selaginellaceae with four species: Selaginella conduplicata, S. erythropus (Mart.) Spring, S. radiata (Aubl.) Baker and S. simplex Baker. The other two families, Isoëtaceae and Lycopodiaceae, had one species each, Isoëtes sp. and Palhinhaea cernua (L.) Franco & Vasc. This study also reports two new record for the Brazilian Cerrado phytogeographic domain, S. conduplicate and S. radiata, of which the first is a new record for Maranhão State. Most specimens were found in riparian forest on rocky outcrops.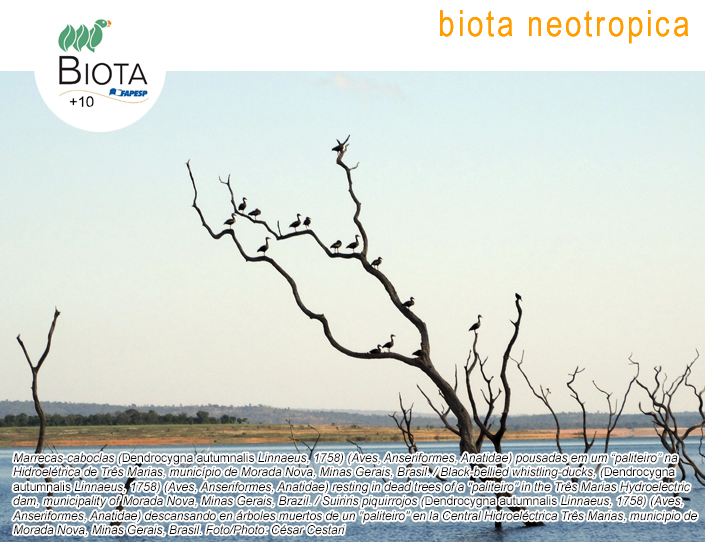 How to Cite
Almeida, F. C., Pietrobom, M. R., & Fernandes, R. S. (2020). Lycophytes of the Chapada das Mesas National Park, Cerrado, Maranhão, Brazil. Biota Neotropica, 20(3). Retrieved from //www.biotaneotropica.org.br/BN/article/view/1739