Fish fauna from the Paranapanema River basin, Brazil
Keywords:
freshwater, Neotropical region, species inventory, Upper Paraná River
Abstract
Abstract: The Paranapanema River is an important, extensively explored tributary of the Upper Paraná River basin. The fish fauna of the Paranapanema River has been investigated since the 1990s; however, no study has characterized the richness of fish species throughout the basin, including the main channel of the river, marginal lagoons, its tributaries, and sub-tributaries. Thus, we performed a review with 90 independent studies conducted at the upper, middle, and lower sections of the basin. We recorded 225 species, of which 165 were native, and 60 were non-native. We found that 77% of the species within the basin are composed by Siluriformes and Characiformes. Cichliformes had a significant number of non-native species established in impoundment sections of the basin. Incidence-Based Estimators (Bootstrap and Chao 2) demonstrated that the richness of native species is still underestimated. Some native (e.g., Hypostomus ancistroides) and non-native species (e.g., Plagioscion squamosissimus) are widely distributed in the basin, while others had a more restricted distribution. Among the registered species, the family Bryconidae had the highest number of representatives with threatened conservation status. In addition, we observed that the Capivara Reservoir and its tributaries were the most sampled regions, with the majority of studies performed in the Lower Paranapanema basin. The species richness recorded in large tributaries, such as Tibagi, Cinzas, Congonhas, and Pirapó rivers is critical for maintaining the fish fauna in the Paranapanema River. Our contribution may be used to support management actions and conservation strategies, as well as to indicate regions in the basin that need to be better inventoried.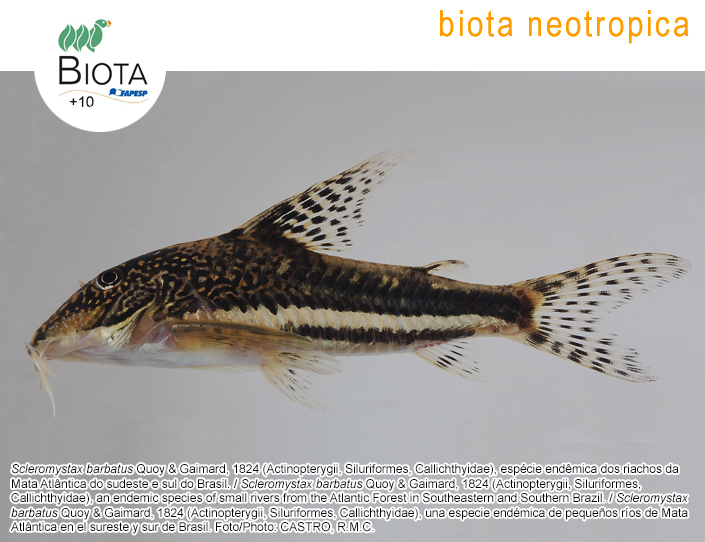 How to Cite
Jarduli, L. R., Garcia, D. A. Z., Vidotto-Magnoni, A. P., Casimiro, A. C. R., Vianna, N. C., Almeida, F. S. de, Jerep, F. C., & Orsi, M. L. (2020). Fish fauna from the Paranapanema River basin, Brazil. Biota Neotropica, 20(1). Retrieved from //www.biotaneotropica.org.br/BN/article/view/1681