On the occurrence of scyphozoan ephyrae (Cnidaria, Scyphozoa, Semaeostomeae and Rhizostomeae) in the southeastern Brazilian coast
Keywords:
Scyphozoa, Semaeostomeae, Rhizostomeae, ephyra, life cycle, Brazil
Abstract
The occurrence of ephyrae of the scyphozoan orders Semaeostomeae and Rhizostomeae is reported for the first time for the Brazilian coast. The specimens, caught in plankton tows in the São Sebastião Channel and the Cananéia lagoon estuarine system, are: Chrysaora lactea (Semaeostomeae), Phyllorhiza punctata (Rhizostomeae), and an unidentified species of Pelagia (Semaeostomeae). A table with all species of scyphozoan with the known life cycle is provided.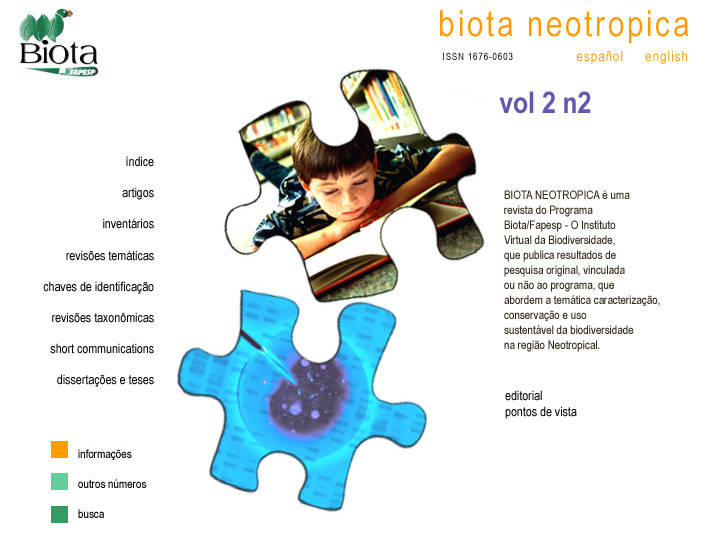 How to Cite
Tronolone, V. B., Morandini, A. C., & Migotto, A. E. (2002). On the occurrence of scyphozoan ephyrae (Cnidaria, Scyphozoa, Semaeostomeae and Rhizostomeae) in the southeastern Brazilian coast. Biota Neotropica, 2(2). Retrieved from //www.biotaneotropica.org.br/BN/article/view/1570