Insect galls from Serra Geral, Caetité, BA, Brazil
Keywords:
Caatinga, Cerrado, Fabaceae, host plant, insect-plant interaction
Abstract
We inventoried and characterized the kinds of gall, gall-inducing insects and host plants from Serra Geral between August 2013 and July 2014. Two phytophysiognomies, cerrado sensu stricto and caatinga-cerrado, were examined monthly along transects during ca. 4 hours per visit, totaling 48 hours of sampling effort. A total of 49 gall morphotypes were found on 14 species of host plants in 18 genera and 13 families. Fabaceae and Malpighiaceae were the families with the most galls, with 22 and 10 gall morphotypes, respectively. The genera of host plant with the greatest richness of galls were Copaifera L. (n=10), Bauhinia Benth. (n=6), and Mimosa L. (n=5). Galls were found on leaves, buds and stems. The majority of the galls were globoid, glabrous, isolated, and one-chambered. The inducers belong to Coleoptera, Diptera, and Lepidoptera, Cecidomyiidae (Diptera) being the most frequent and diverse gall-inducers. The associated fauna included parasitoids (Hymenoptera), successors (Formicidae), and predators (Pseudoscorpiones), obtained from 13, 2, and 1 gall morphotypes, respectively. Five plant taxa are recorded as hosts of gall-inducing insects for the first time.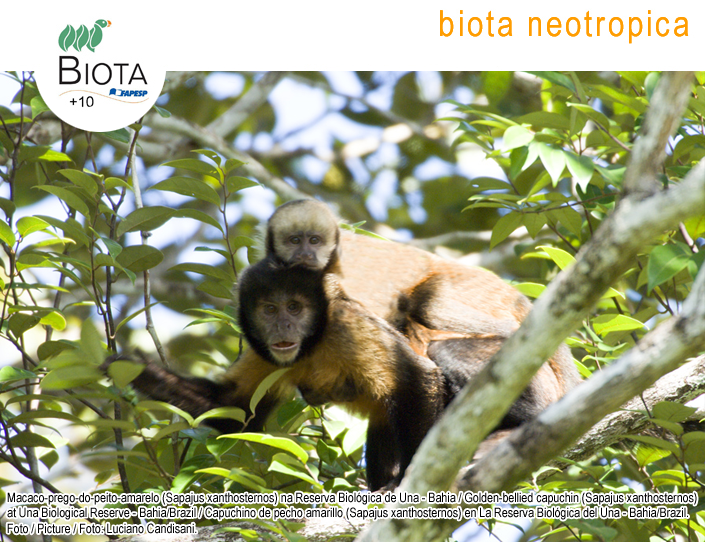 How to Cite
Nogueira, R. M., Costa, E. C., Carvalho-Fernandes, S. P., & Santos-Silva, J. (2016). Insect galls from Serra Geral, Caetité, BA, Brazil. Biota Neotropica, 16(1). Retrieved from //www.biotaneotropica.org.br/BN/article/view/1380