Diversity Assessment of Lotic Macroalgal Flora by the Application of Taxonomic Distinctness Index
Keywords:
Biodiversity, taxonomic distinctness, macroalgae
Abstract
The main aim of this study was to assess the diversity of four stream algal divisions (Cyanobacteria, Chlorophyta, Ochrophyta and Rhodophyta) by comparing results obtained with taxonomic distinctness index and diversity patterns of previous studies. The data were obtained from a study made in 1000 stream segments in North American biomes. The taxonomic arrangement of the taxa was created from species to division level in order to obtain the taxonomic tree, which is used in taxonomic distinctness index. The results of taxonomic distinctness index showed that stream macroalgal diversity was different from that commonly found. Herein, Ochrophyta was the division with the highest diversity, whereas in previous studies Chlorophyta has been in the first position. Cyanobacteria also presented different results, showing the lowest diversity with taxonomic distinctness index, but it is often one of the most diverse divisions in previous studies. The application of statistical methods should match the research aims and be appropriate to the data set collected. However, different methods can complement ecological analyzes, taking into account what aspect of the community the statistical measure better explains.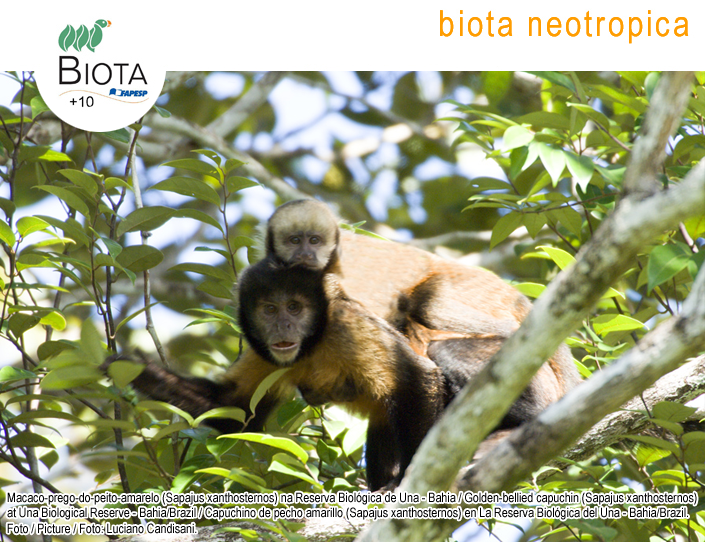 How to Cite
Tonetto, A. F., Bispo, P. C., & Branco, C. C. Z. (2016). Diversity Assessment of Lotic Macroalgal Flora by the Application of Taxonomic Distinctness Index. Biota Neotropica, 16(1). Retrieved from //www.biotaneotropica.org.br/BN/article/view/1354