Notas sobre espécies de Idiops perty, 1833 do sudeste brasileiro com descrição de I. pirassununguensis sp. n. (Mygalomorphae, Idiopidae, Idiopinae)
Keywords:
Idiopidae, Idiopinae, Idiops, new species, Southeastern of Brazil
Abstract
The study of type and non-type material of species of the genus Idiops Perty, 1833, Southeastern Brazil, enabled to enhance the taxonomical knowledge of these species. Thus, Idiops montealegrensis Soares, 1944 is synonymized with Idiops camelus Mello Leitão, 1937; Idiops germaini Simon, 1892 described from Rio de Janeiro, Brazil, is confirmed as a valid species and Idiops pirassununguensis n. sp. is described from Pirassununga, São Paulo, Brazil. In addition, Idiops nilopolensis Mello Leitão, 1923, from Nilópolis, Rio de Janeiro is considered species inquirenda and new records are presented for Idiops camelus.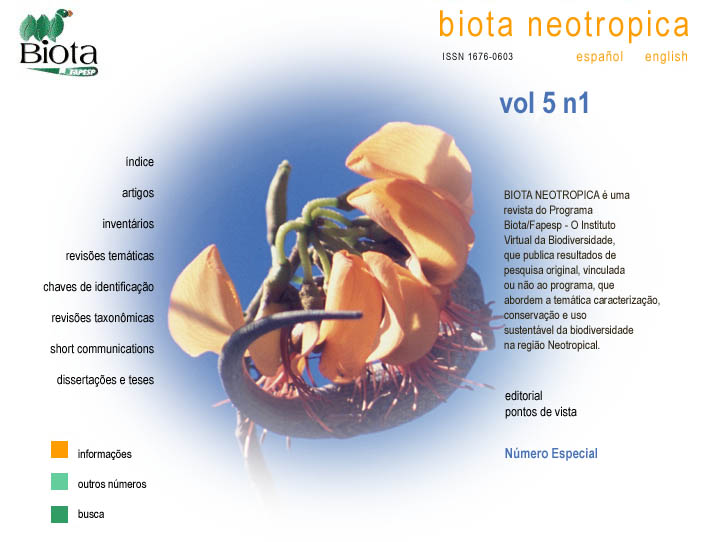 How to Cite
Fukami, C. Y., & Lucas, S. M. (2005). Notas sobre espécies de Idiops perty, 1833 do sudeste brasileiro com descrição de I. pirassununguensis sp. n. (Mygalomorphae, Idiopidae, Idiopinae). Biota Neotropica, 5(1). Retrieved from //www.biotaneotropica.org.br/BN/article/view/135
Section
Taxonomic Reviews