Dung beetles of the tribe Phanaeini (Coleoptera: Scarabaeidade: Scarabaeinae) from Roraima state, Northern Brazil: checklist and key to species
Keywords:
Inventory, Amazon, Guyana Shield
Abstract
Phanaeini comprises about 160 species in 12 genera restricted to the Americas. Since the diversity of this tribe remains little known in several regions of Brazil, this study presents a guide to its 13 species with presence in the biologically rich and largely unexplored state of Roraima: Coprophanaeus (Coprophanaeus) abas (MacLeay, 1819), C. (C.) dardanus (MacLeay, 1819), C. (C.) gameziArnaud, 2002, C. (C.) jasius (Olivier, 1789), C. (Megaphanaeus) lancifer (Linnaeus, 1767), Oxysternon (Oxysternon) conspicillatum conspicillatum Werber, 1801, O. (O.) durantoniArnaud, 1984, O. (O.) ebeninum (Nevinson, 1890), O. (O.) festivum viridanum (Olsoufieff, 1924), O. (O.) silenus chicheryiArnaud, 2001, Phanaeus (Notiophanaeus) bispinusBates, 1868, P. (N.) bordoniArnaud, 1996 (first record from Brazil), and Sulcophanaeus faunus (Fabricius, 1775). The species of Dendropaemon were not considered herein because the genus is presently under taxonomic revision.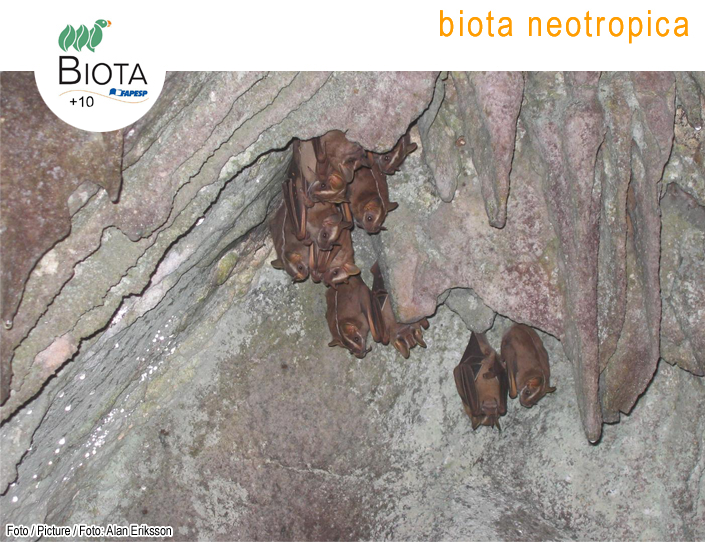 How to Cite
Pacheco, T. L., & Vaz-de-Mello, F. Z. (2015). Dung beetles of the tribe Phanaeini (Coleoptera: Scarabaeidade: Scarabaeinae) from Roraima state, Northern Brazil: checklist and key to species. Biota Neotropica, 15(2). Retrieved from https://www.biotaneotropica.org.br/BN/article/view/1302