Floristic and phytosociology in a physiognomic gradient of riverine forest in Cerrado, Campinas, SP
Keywords:
ecotone, savanna, floristic similarity, riverine forest-cerrado transition, vegetation structure
Abstract
Knowledge on floristic composition and vegetation structure is essential to preserve plant biodiversity and environmental conditions. A floristic and structural survey of woody vegetation was carried out in a physiognomic gradient of riparian forest of Cerrado vegetation, Campinas - SP. We sampled 25 plots, distributed along five transects, located perpendicularly to a stream. We found 971 individuals (65 standing dead trees) distributed among 35 families and 80 species. We recorded one single individual of exotic species (Citrus limon – rangpur) and a large number of individuals of endangered species (Luetzelburgia guaissara, Myroxylon peruiferum andTrichilia hirta) indicating that the Santa Elisa study area retains much of the original characteristics of its native vegetation. The small number of exclusive Cerrado species in the study area indicates that riverine environments represent a very different condition in relation to that of the Cerrado. Except for swampy areas, which are more homogeneous and floristically similar to each other due to adaptations to greater environmental constraints, the riverine forest physiognomies showed greater internal floristic heterogeneity, even considering only those located in Cerrado areas. This emphasizes the importance of studying riverine forests flora for each particular region, especially when restoration or management actions are needed. At the Santa Elisa riverine-cerrado transition fragment, riparian species were found throughout gradient up to the limit of the study area showing that a distance of at least 50 m far from the stream should be preserved in order to keep the riparian environment.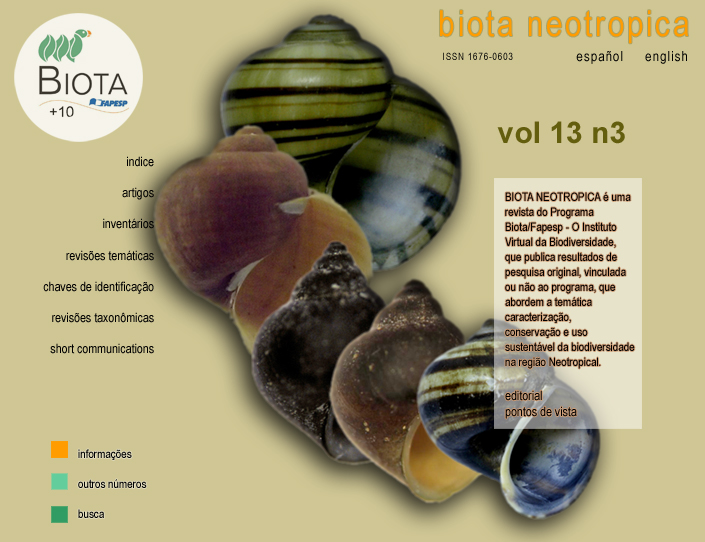 How to Cite
Carvalho, M. B., Bernacci, L. C., & Coelho, R. M. (2013). Floristic and phytosociology in a physiognomic gradient of riverine forest in Cerrado, Campinas, SP. Biota Neotropica, 13(3). Retrieved from //www.biotaneotropica.org.br/BN/article/view/1276