Sandy coastal plains (restinga) of Praia das Neves, ES, Brazil: phytophysiognomy characterization, flora and conservation
Keywords:
Atlantic forest, Southeastern Brazil, sandy ridges, flora, plant communities, endangered species
Abstract
The sandy coastal plains (restinga) of Praia das Neves occupies a large area (ca. 67 km2) in the southeastern state of Espírito Santo (21°14′35.35″ S and 40°56′48.68″ W), bordered by Itabapoana River on the boundary with the state of Rio de Janeiro. The aim of this study was to identify and characterize the different types of plant communities and associated flora on that sandy coastal plain, including the recognition of the habitats related to the endangered lizardLiolaemus lutzae Mertens, 1938. Field trips to characterize the local flora were carried out on specific campaigns, between the years 2008 and 2011. The plants were identified and deposited in the RBR Herbarium of the Department of Botany at the Universidade Federal Rural do Rio de Janeiro. The communities' characterization was based on local observations and specialized bibliography, considering physical aspects of the environment, habit and composition of plant species. The sandy coastal plain of Praia das Neves brings together seven forest, shrub and herbaceous communities, usually distributed in ridges parallels to the shoreline. There have been recorded 167 species of vascular plants, grouped into 58 families, occurring in different communities. The majority of species occurs in a single community, while Allagoptera arenaria (guriri-da-praia) stands out for occurring in almost all local communities. The restinga of Praia das Neves maintains extensive areas in good environmental conditions, with some species cited in the red list of endangered species in the state of Espírito Santo, and also with important remnants of coastal communities. Although its greatest extension is within a private area, future actions should ensure the preservation of the local restinga, with its different communities and associated biota, according to the current federal legislation.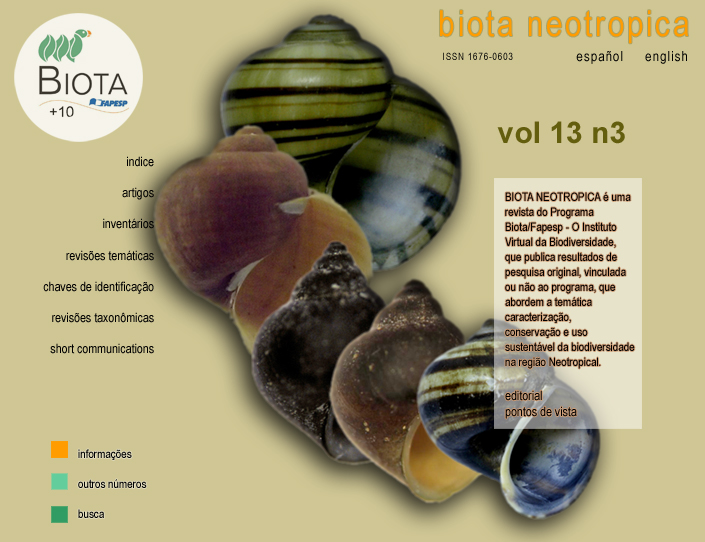 How to Cite
Braz, D. M., Jacques, E. de L., Somner, G. V., Sylvestre, L. da S., Rosa, M. M. T. da, Pereira-Moura, M. V. L., Germano Filho, P., Couto, A. V. dos S., & Amorim, T. A. (2013). Sandy coastal plains (restinga) of Praia das Neves, ES, Brazil: phytophysiognomy characterization, flora and conservation. Biota Neotropica, 13(3). Retrieved from https://www.biotaneotropica.org.br/BN/article/view/1250