Fabaceae of the Rio São Francisco River sub-basin, Nova Marilândia, Mato Grosso, Brazil
Keywords:
Leguminosae, Inga, neotropical flora, Pantanal, riparian vegetation
Abstract
The watershed of the São Francisco River is a large complex of headwaters of the Paraguay River, the main river of the Pantanal Matogrossense. Considering that Fabaceae are pointed out as the main family in floristic composition of various Brazilian biomes, however in some regions of Brazil is still little known upon the taxa, particularly in the Northern part of the Central-West, this study aimed to present a list of taxa occurring in the sub-basin of the São Francisco River, municipality of Nova Marilândia, State of Mato Grosso. For the taxa we give information on habit, vegetation, data on geographic distribution, potential use, successional strategy and dispersal syndrome, to subsidize habitat restoration projects. We recorded a total of 44 taxa, belonging to 25 genera. Inga stood out as the main genus in number of species. Among the identified taxa we found eight new records for the State of Mato Grosso: Chamaecrista brevicalyx (Benth.) H. S. Irwin & Barneby var. brevicalyx, Inga alba (Sw.) Willd., I. capitata Desv., I. heterophylla Willd., I. marginata Willd., I. nobilis Willd., Mimosa nitens Benth. and Ormosia coarctata Jacks. Vouchers are kept in the Herbarium UFMT.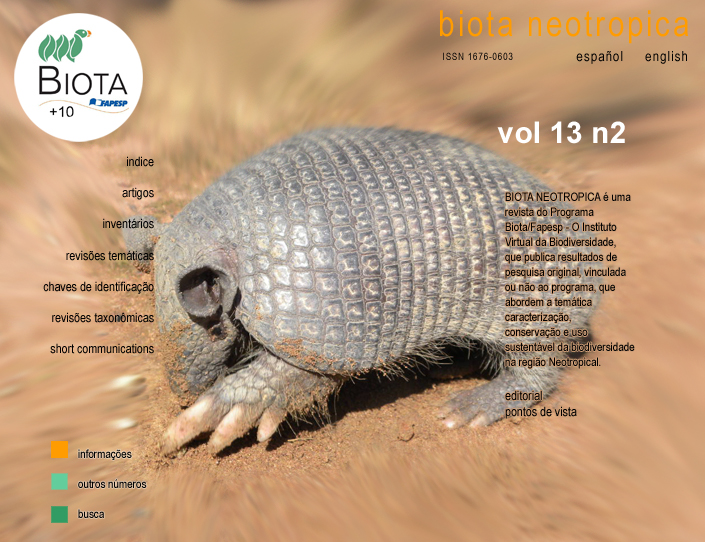 How to Cite
Silva, R. R., & Souza-Lima, E. S. de. (2013). Fabaceae of the Rio São Francisco River sub-basin, Nova Marilândia, Mato Grosso, Brazil. Biota Neotropica, 13(2). Retrieved from https://www.biotaneotropica.org.br/BN/article/view/1203
Section
Short Communications