Sapindaceae from northwestern region of the State of São Paulo: species list and identification key based on vegetative characters
Keywords:
floristic, lianas, trees
Abstract
The species identification is usually an obstacle for conservation studies and management. Sapindaceae species are particularly difficult to identify partially due to inconsistent fruit production which is an important feature in defining genera and species. Because of this difficulty of finding fertile material at particular times of the year, the main focus of this study was to identify species of Sapindaceae in northwestern São Paulo and to produce an identification key based on vegetative morphology such as the form and number of leaflets, the number of vascular cylinders in branches to the species of liana, the presence or absence of domatia, and type of indumentum, among others. In this study, researchers identified species of Sapindaceae present in 18 fragments of native vegetation in the region that includes the Turvo Grande, São José dos Dourados, parts of the Low Pardo, Low Tietê and Tietê-Batalha Hydric Resources Management Unit (UGHRIs). An identification key was developed based on herbarium materials and contained 23 species distributed in 11 genera.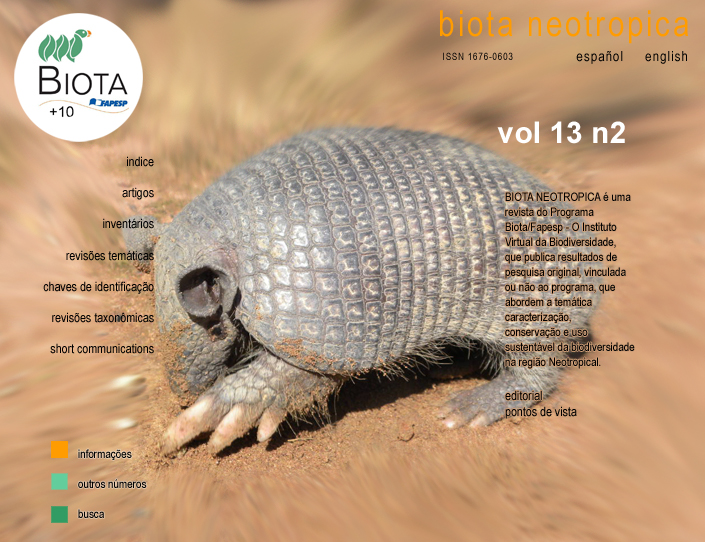 How to Cite
Sprengel-Lima, C., & Rezende, A. A. (2013). Sapindaceae from northwestern region of the State of São Paulo: species list and identification key based on vegetative characters. Biota Neotropica, 13(2). Retrieved from https://www.biotaneotropica.org.br/BN/article/view/1186
Section
Identification Keys