Coloration of the testicular peritoneal sheath as a synapomorphy of triatomines (Hemiptera, Reduviidae)
Keywords:
testicle, Heteroptera, Triatominae subfamily
Abstract
Recently, were described some morphological characteristics of 18 species of terrestrial hemipteran grouped in the Alydidae, Coreidae, Corimelaenidae, Lygaeidae, Rhopalidae, Scutelleridae, Tingidae and Reduviidae family that presented found variation in coloration of testicular peritoneal sheath (Reddish, Orange, Yellowish or Transparent). Thus, this study aims to analyzed the coloration of the peritoneal sheath in 44 species of triatomines grouped in nine different genera, with the aim of analyze whether the insects of the Triatominae subfamily also show variations in coloration. By means of analysis of the sheath was possible to observe that members of this subfamily have no interspecific differences, because all species have a transparent sheath. Thus, this paper describes the coloring of the peritoneal sheath in 44 species of the subfamily Triatominae and mainly suggests that the transparent color is one synapomorphy of this important group of insect vectors.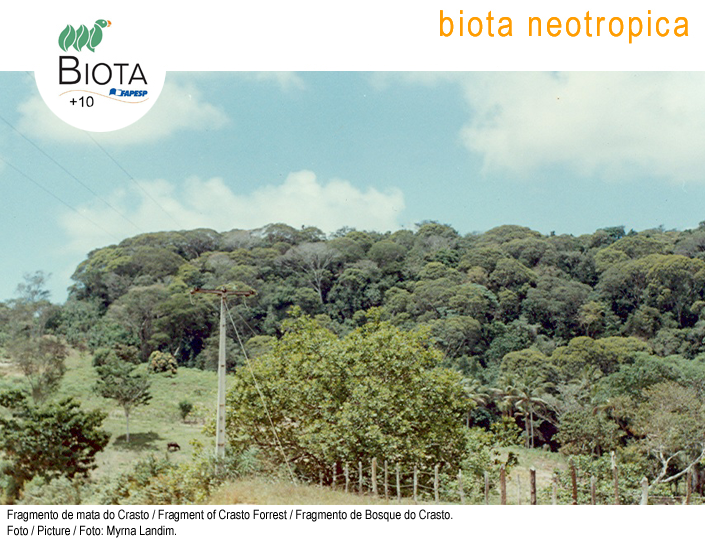 How to Cite
Alevi, K. C. C., Oliveira, J. de, Rosa, J. A. da, & Oliveira, M. T. V. de A. (2014). Coloration of the testicular peritoneal sheath as a synapomorphy of triatomines (Hemiptera, Reduviidae). Biota Neotropica, 14(4). Retrieved from //www.biotaneotropica.org.br/BN/article/view/1156
Section
Short Communications