A proposal for teaching material based on existing Vochysiaceae species on a trail in the cerrado of Bauru - SP
Keywords:
biodiversity, botany teaching, practical field activity, cerrado
Abstract
This work was accomplished in a trail located inside a legal reserve in the Campus of UNESP (Universidade Estadual Paulista) in Bauru, characterized especially by the "cerrado" vegetation (savanna). The area has been used for practical field activities of the project "Wandering and Learning in the cerrado" in which students are guided into a practical class about Ecology and Botany. The family Vochysiaceae was chosen for having the greatest representativeness in this environment, besides it holds species with typical morphology from cerrado species: twisted and corky stems and some species with leathery leaves. It also allows the illustration of various ecological interactions through live examples during the field practice class. The identified species were: Qualea cordata Spreng., Qualea grandiflora Mart., Qualea multiflora Mart., Qualea parviflora Mart., Vochysia cinnamomea Pohl and Vochysia tucanorum Mart. Such species were described and samples herborized. Information about ethnobotanical and ecological interactions were searched in the literature and observed in the field. With these data it was elaborated a species catalog, an identification key and a glossary. Such tools are intended to support the practical activity of the teacher in the practical activity and to promote motivation and interest among the students.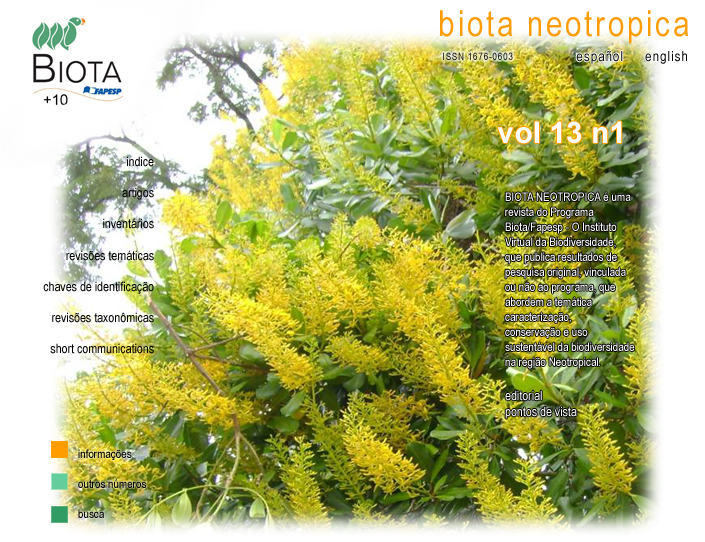 How to Cite
Rissi, M. N., & Cavassan, O. (2013). A proposal for teaching material based on existing Vochysiaceae species on a trail in the cerrado of Bauru - SP. Biota Neotropica, 13(1). Retrieved from //www.biotaneotropica.org.br/BN/article/view/1091