Seasonal pattern of Chrysomelidae (Coleoptera) in the state of Paraná, southern Brazil
Keywords:
abundance, Alticini, herbivorous insects, distribution pattern, seasonality
Abstract
The aim of this paper was to describe the seasonal patterns of Chrysomelidae and of its most abundant species at eight sites in different geomorphological and floristic regions in the state of Paraná, southern Brazil. Samples with Malaise traps, from August 1986 to July 1988 were performed. The Chrysomelidae showed seasonal patterns with the highest abundance in the spring and/or summer at all sites, but with variations in the months of highest captures. Photoperiod was the variable that most influenced the seasonality of Chrysomelidae, and along with temperature and relative humidity, determined most of the seasonal patterns of the family at the different sites. Some dominant species of Chrysomelidae showed different seasonal pattern compared to the family level. A better knowledge of the seasonal distribution patterns of these species will only be possible when their life history, such as host plants and behavior, was better understood.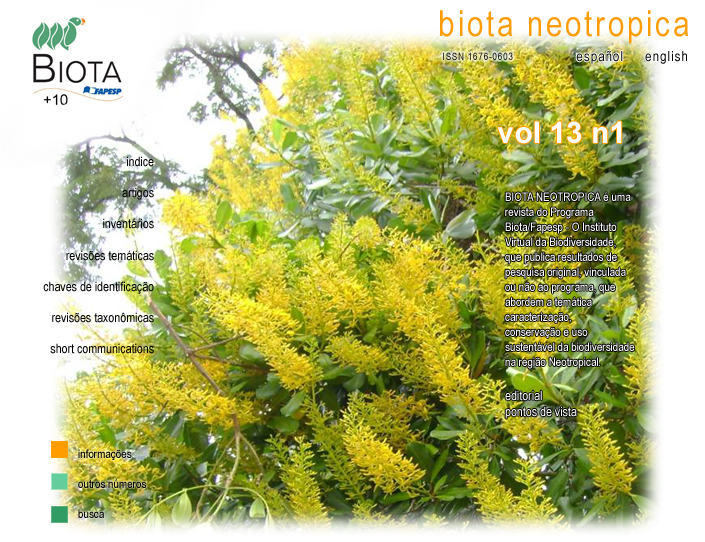 How to Cite
Linzmeier, A. M., & Ribeiro-Costa, C. S. (2013). Seasonal pattern of Chrysomelidae (Coleoptera) in the state of Paraná, southern Brazil. Biota Neotropica, 13(1). Retrieved from //www.biotaneotropica.org.br/BN/article/view/1065