Nest architecture of the stingless bee Geotrigona subterranea (Friese,1901) (Hymenoptera: Apidae: Meliponini)
Keywords:
bionomy, nesting, stingless bee, mombuca bee
Abstract
We located ten nests of Geotrigona subterranea in the transition area between Cerrado and Caatinga within the municipalities of Lontra and Januária, state of Minas Gerais, southeastern Brazil. We collected the nests to study their architecture in detail. In the present paper, we describe the general nest structure of this bee species in terms of: number, shape and area of the combs; size of the brood cells; size of honey and pollen pots; volume of honey and mass of pollen stored in closed pots; presence of inquiline species; and defensive characteristics. All nests were found in subterranean cavities. The nest structure of G. subterranea is similar to that of other congeneric species.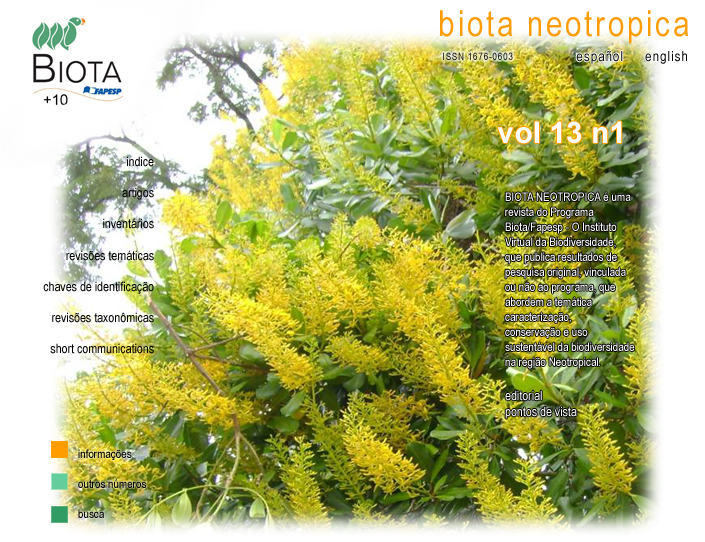 How to Cite
Barbosa, F. M., Alves, R. M. de O., Souza, B. de A., & Carvalho, C. A. L. de. (2013). Nest architecture of the stingless bee Geotrigona subterranea (Friese,1901) (Hymenoptera: Apidae: Meliponini). Biota Neotropica, 13(1). Retrieved from //www.biotaneotropica.org.br/BN/article/view/1064