Orchid Bees of forest fragments in Southwestern Amazonia
Keywords:
Euglossini, conservation, diversity, Acre State
Abstract
Bees of the tribe Euglossini are known as orchid-bees. In general, areas with more vegetation cover have greater abundance and diversity of these bees. This study investigated the effects of forest fragmentation on assemblages of the euglossine bees in the region of Rio Branco municipality, State of Acre, and surrounding areas. Ten forest fragments with varying sizes were selected for the study and were classified as urban or rural. The bees were sampled between December 2005 and August 2006. A total of 3,675 bees in 36 species and 4 genera were collected. In general abundance and richness of bees did not differ statistically between urban and rural fragments. The index of edge in fragments was a predictor of richness and diversity of bees. The connectivity estimated was also an adequate predictor for richness. Fragments with greater similarity in relation to their landscape structure were also more similar in relation to faunal composition.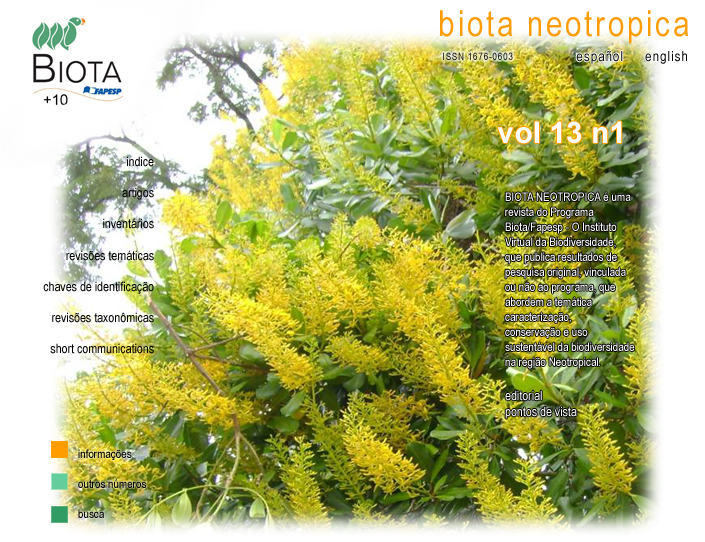 How to Cite
Storck-Tonon, D., Morato, E. F., Melo, A. W. F. de, & Oliveira, M. L. de. (2013). Orchid Bees of forest fragments in Southwestern Amazonia. Biota Neotropica, 13(1). Retrieved from //www.biotaneotropica.org.br/BN/article/view/1062