Bioluminescent Coleoptera of Biological Station of Boracéia (Salesópolis, SP, Brazil): diversity, bioluminescence and habitat distribution
Keywords:
Lampyridae, Phengodidae, Elateridae, Staphylinidae, bioluminescence, fireflies, bioindicators
Abstract
Brazil hosts the richest biodiversity of bioluminescent beetles in the world. Several species are found in the Atlantic rain forest, one of the richest and most threatened tropical forests in the world. We have catalogued the biodiversity of bioluminescent species mainly of Elateroidea superfamily occurring in one of the last largest and most preserved remnants of Atlantic rain forest, located at the Biological Station of Boracéia of São Paulo University (Salesopolis, SP, Brazil). This site accounted with the largest diversity ever found for a single place in São Paulo State, with 39 species: Lampyridae (30), Phengodidae (5), Elateridae (3) and Staphylinidae (1). This fauna has unique species that were not found in any other places of Atlantic forest in São Paulo state, especially fireflies from the Lampyrinae tribes (Cratomorphini, Lamprocerini, Lucidotini), the subfamilies Amydetinae and Photurinae, and the phengodids Pseudophengodes and Brasilocerus sp.2. Most species are found in dense Ombrophyl forest or at their border, and a few ones are found dwelling in the few open fields around the forest. There is a predominance of glowing patterns in the green region among forest inhabiting species when compared with open field fireflies.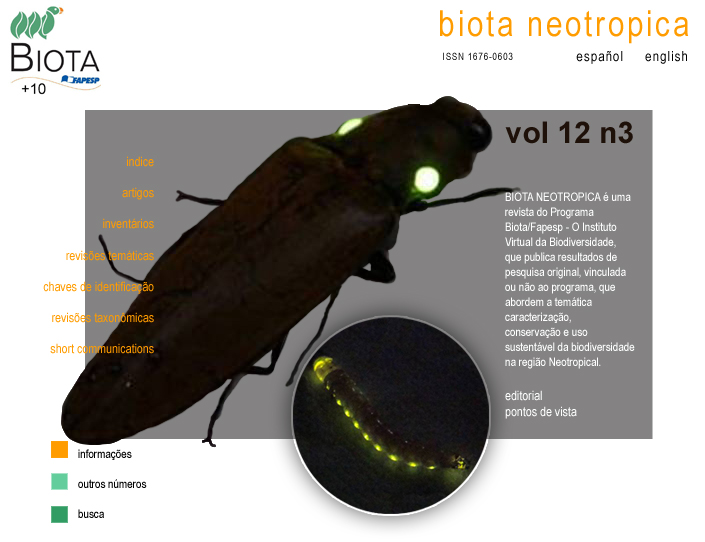 How to Cite
Viviani, V. R., & Santos, R. M. dos. (2012). Bioluminescent Coleoptera of Biological Station of Boracéia (Salesópolis, SP, Brazil): diversity, bioluminescence and habitat distribution. Biota Neotropica, 12(3). Retrieved from //www.biotaneotropica.org.br/BN/article/view/1012