Transferability and characterization of microsatellite markers in five Bromeliaceae species belonging to the subfamilies Pitcairnioideae and Bromelioideae
Keywords:
cross-amplification, SSR, genetic diversity, bromeliads, conservation
Abstract
Microsatellite markers previously developed for Pitcairnia albiflos Herb. and Pitcairnia geysksii L.B.Sm. were used in cross-amplification tests of five other Bromeliaceae species. Ten (76.9%) out of the 13 evaluated pair of primers had positive results for some of the species tested. The number of polymorphic alleles ranged between two and four in most species. Ho values ranged between zero, in Pitcairnia flammea Lindl. (PaA05), Aechmea ramosa Mart ex Schult & Schult and Billbergia horrida Regel (PaC05), and one in Billbergia euphemiae E. Morren (PaA05, PaA10, PaC05 and PaD07). This study showed that microsatellite markers developed for P. albiflos and P. geysksii effectively amplified the DNA samples of Pitcairnia flammea, Aechmea nudicaulis (L.) Griseb., Aechmea ramosa, Billbergia horrida and Billbergia euphemiae, validating the transferability of these markers to species of the Pitcairnioideae and Bromelioideae subfamilies.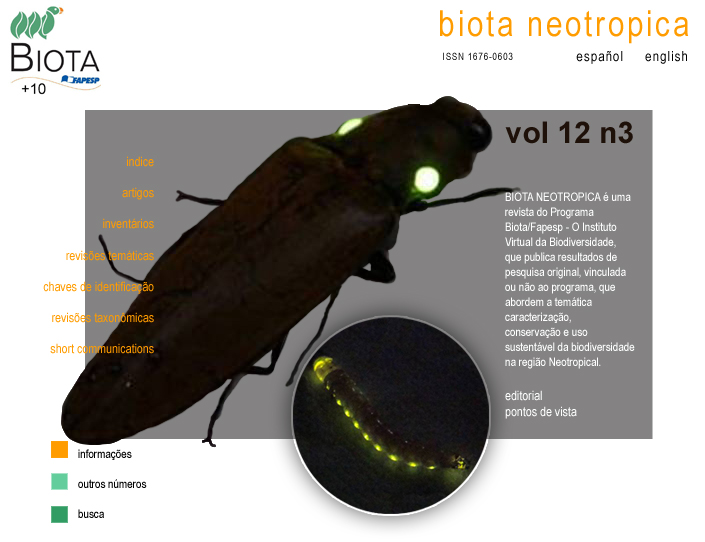 How to Cite
Miranda, F. D. de, Gontijo, A. B. P. L., Santiliano, F. C., Favoreto, F. C., & Soares, T. C. B. (2012). Transferability and characterization of microsatellite markers in five Bromeliaceae species belonging to the subfamilies Pitcairnioideae and Bromelioideae. Biota Neotropica, 12(3). Retrieved from //www.biotaneotropica.org.br/BN/article/view/1011
Section
Short Communications