Checklist of Ephemeroptera from São Paulo State, Brazil
Keywords:
Ephemeroptera, biodiversity of the State of São Paulo, BIOTA/FAPESP Program
Abstract
Ephemeroptera is one of most important groups of aquatic insects besides of Plecoptera and Trichoptera, and various Diptera. They inhabit lotic and lentic environments with high diversity in streams and rivers, with stones and leaves and oligo-mesotrophic water. Last Ephemeroptera checklist for the State of São Paulo (Hubbard & Pescador, 1999) shows 8 species and no researchers working on Ephemeroptera taxonomy. Nowadays there are 53 species recorded for the State of São Paulo, distributed in 9 families: Baetidae (15 spp.), Caenidae (1 sp.), Ephemeridae (1 sp.), Euthyplociidae (2 spp.), Leptohyphidae (12 spp.), Leptophlebiidae (16 spp.), Melanemerellidae (1 sp.), Oligoneuriidae (1sp.) and Polymitarcyidae (3 spp.), and at least four PhD's Brazilian researchers working directly on taxonomy and distribution of Ephemeroptera.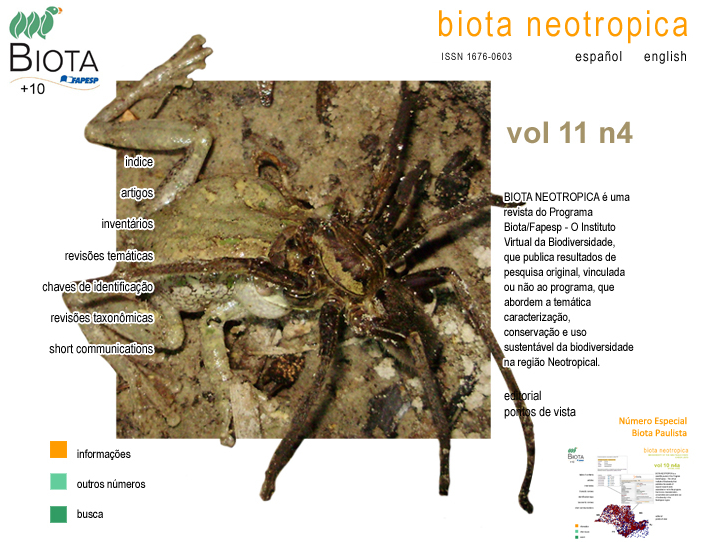 How to Cite
Mariano, R., & Polegatto, C. (2011). Checklist of Ephemeroptera from São Paulo State, Brazil. Biota Neotropica, 11(4). Retrieved from //www.biotaneotropica.org.br/BN/article/view/974