Checklist of fresh-water Copepoda Calanoida from São Paulo State, Brazil
Keywords:
fresh-water Calanoida, biodiversity of the State of São Paulo, BIOTA/FAPESP Program
Abstract
Calanoida copepods from São Paulo State were studied extensively during the Project BIOTA/FAPESP (1999-2003). A number of 389 samples were collected from several hydric systems belonging at 22 UGRHI (Unit Management of Hydric Resources) of São Paulo State. Twelve (12) species of Calanoida were found, one of them a new species described as Notodiaptomus oliveirai (Matsumura-Tundisi et al. 2010) and registered in several water bodies of the UGRHI analysed except the Alto Tietê UGRHI. Other less frequent species however recorded already in São Paulo State such as Idiodiaptomus gracilipes, Trichodiaptomus coronatus, Notodiaptomus conifer, N. spinuliferus, N. transitans, N. isabelae, N. jatobensis and Pseudodiaptomus acutus were not found in the samplings of BIOTA/FAPESP.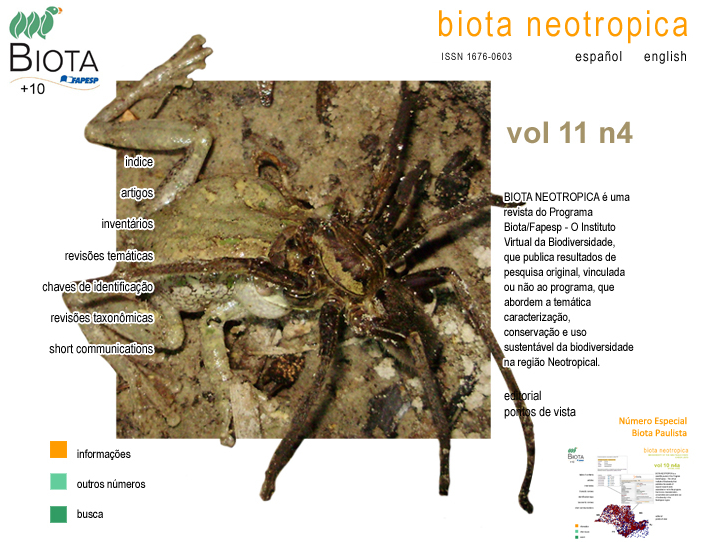 How to Cite
Checklist of fresh-water Copepoda Calanoida from São Paulo State, Brazil. (2011). Biota Neotropica, 11(4). Retrieved from https://www.biotaneotropica.org.br/BN/article/view/971