Inventory of the Echinodermata collection from the Universidade Federal de Alagoas
Keywords:
biodiversity, echinoderm, taxonomy, benthic macroinvertebrate, Brazil
Abstract
Collections and inventories provide important and essential information for understanding the composition and distribution of biodiversity. This contribution presents an inventory of the species held in the Echinodermata collection in the Setor de Comunidades Bentônicas (LABMAR/ICBS), Universidade Federal de Alagoas. The collections were made over a period of more than 20 years, at several localities of coastal Alagoas. This collection now includes 16,201 catalogued individual specimens, with 50 species in the five extant classes Crinoidea, Asteroidea, Ophiuroidea, Echinoidea and Holothuroidea, based on 640 records; the class Ophiuroidea is best represented. The results of this inventory contribute significantly to knowledge of marine benthic diversity from the state of Alagoas, and the information presented here expands the data for Echinodermata from the northeastern coast of Brazil.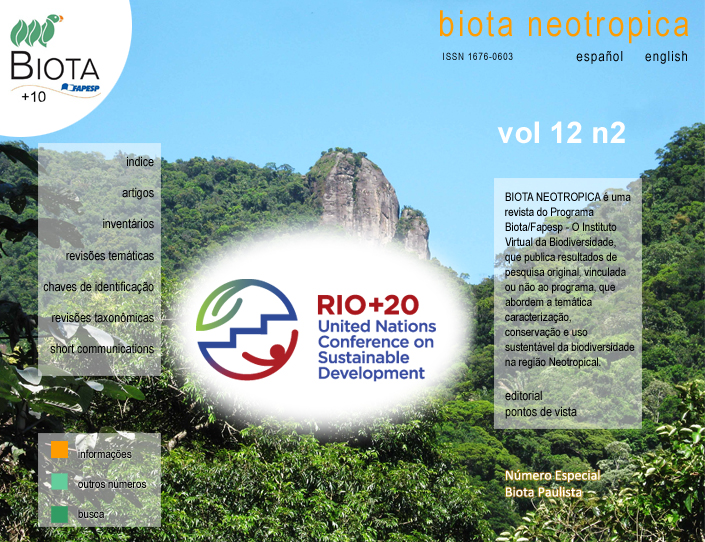 How to Cite
Miranda, A. L. S., Lima, M. L. de F., Sovierzoski, H. H., & Correia, M. D. (2012). Inventory of the Echinodermata collection from the Universidade Federal de Alagoas. Biota Neotropica, 12(2). Retrieved from //www.biotaneotropica.org.br/BN/article/view/948