Decapod crustaceans associated with farming ropes of the mussel Perna perna (Linnaeus, 1758) (Mollusca, Bivalvia, Mytilidae) from Armacao do Itapocoroy Bay, Penha - SC
Keywords:
mytiliculture, associated fauna, richness and species diversity
Abstract
This study aimed to describe the assemblage of decapod crustaceans associated with the mussel farming ropes located in the Armação do Itapocoroy Bay, in the municipality of Penha, Santa Catarina State, southern Brazil. The following aspects were assessed: species composition and total weight, succession of species and temporal oscillation of abundance, species richness and Shannon's diversity. The growth data (height and weight of the shells) of the biological substrate (mussels) are also presented. During the nine months of the experiment, associated decapods were collected from 15 ropes (three ropes every other month). A total of 501 decapods were collected that belonged to nine families, 15 genera and 21 species. The most dominant family was Porcellanidae, with seven species, followed by Panopeidae (five) and Pilumnidae (three), while the remaining families were represented by one species each. The most abundant species was Pilumnus dasypodus (n = 244) that together with Synalpheus fritzmuelleri, Pachycheles laevidactylus, Pisidia brasiliensis, Menippe nodifrons, Pachycheles monilifer and Petrolisthes galathinus summed up 88% of decapod. Species richness increased from three to 15 during the experiment and species diversity showed its maximum in the fifth and ninth month, due to increased availability of shelters within biological substrate composed of living mussels. The total weight of decapods represented only 3% of the total weight of the farming ropes, due to the smallness of them. This indicates that these animals cannot be considered harmful for the mussel farming. The ropes play a role of shelter and as food resource, since most of these decapods spend all their bentic life in this biotope.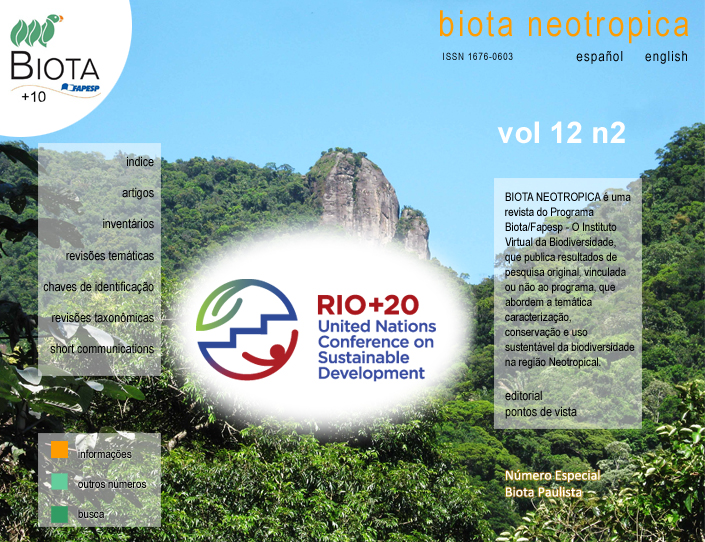 How to Cite
Macedo, P. P. B. de, Masunari, S., & Corbetta, R. (2012). Decapod crustaceans associated with farming ropes of the mussel Perna perna (Linnaeus, 1758) (Mollusca, Bivalvia, Mytilidae) from Armacao do Itapocoroy Bay, Penha - SC. Biota Neotropica, 12(2). Retrieved from //www.biotaneotropica.org.br/BN/article/view/941