The effects of bauxite/alumina waste on the composition of the macroinvertebrate community of the Rio Cobre, a major river in Jamaica
Keywords:
habitat alteration, metal waste, Caribbean rivers, faunal composition, Trichoptera
Abstract
The paper sets out the results of a one year study on the effects of bauxite waste discharge on the macroinvertebrate fauna of a Jamaican river, the Rio Cobre, based on monthly samples from four sites. Significantly higher levels of temperature and conductivity were found at the sites downstream of the point of effluent discharge. The invertebrate fauna of the two sites immediately downstream of the point of discharge was dominated by two invertebrate taxa: Baetis sp. (Fam. Baetidae) and Smicridea jamaicensis (Fam. Hydropsychidae).These taxa made up between 26 to 35% of the numbers at these two sites. Upstream of the bauxite waste input the community was dominated by cased caddis larvae of Helicopsyche ochthephila (Fam. Helicopsychidae) and Cubanoptilia tridens (Fam. Glossostomatidae), which also occurred at the site furthest downstream from the waste input. Scrapers dominated at the upstream site whereas collector gatherers were the predominant functional feeding category at the impacted sites. The constituents of the bauxite waste are discussed and it is proposed that the changes in faunal composition which have resulted from waste input may be a consequence of habitat alteration due to increased deposits of suspended material rather than the chemical nature of the waste.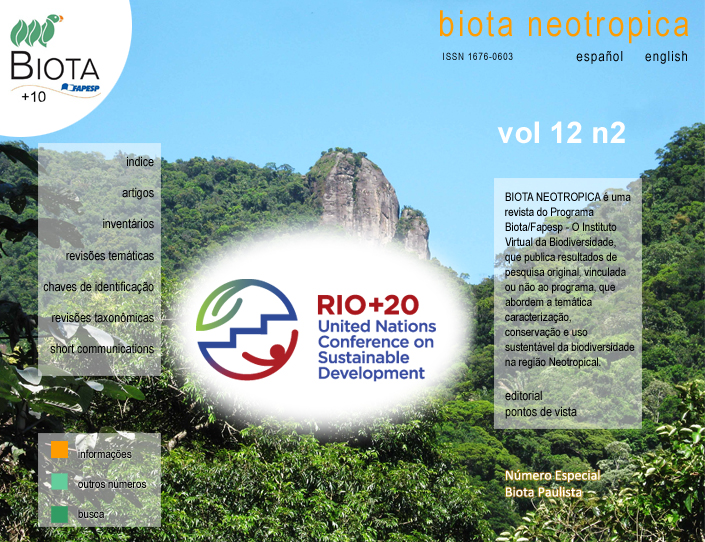 How to Cite
Hyslop, E. J., & Nesbeth, D. A. (2012). The effects of bauxite/alumina waste on the composition of the macroinvertebrate community of the Rio Cobre, a major river in Jamaica. Biota Neotropica, 12(2). Retrieved from //www.biotaneotropica.org.br/BN/article/view/932