A brief inventory of sand flies (Diptera, Psychodidae) from the National Forest of the Rio Preto, state of the Espírito Santo, southeastern Brazil
Keywords:
Phlebotominae, diversity, inventory, Atlantic Forest, leishmaniasis
Abstract
The inventories on sand flies are usually conducted for a long period in leishmaniasis-endemic regions. Thus, there is little data on the sand fly fauna in areas where no leishmaniasis cases have been reported. Therefore, we conducted an inventory to study the sand fly fauna in the National Forest of Rio Preto (NFRP). We carried out a brief inventory by using four CDC light traps in 2009 during winter and summer. We collected 1,403 sand flies belonging to 11 genera and 22 species. As expected, we did not find in the NFRP region sand flies species that have been reported as vectors of Leishmania. However, we found some species of sand flies with few records and that rarely have been reported in southeastern Brazil. Nevertheless, the diversity and species richness of the sand flies in NFRP were similar to those reported in other Atlantic Forest conservation areas. Hence, we drew the following conclusions: (i) it is necessary to carry out inventories not only in leishmaniasis-endemic areas but also in areas with no records of this disease; and (ii) brief inventories can be useful in describing the sand fly fauna in such areas.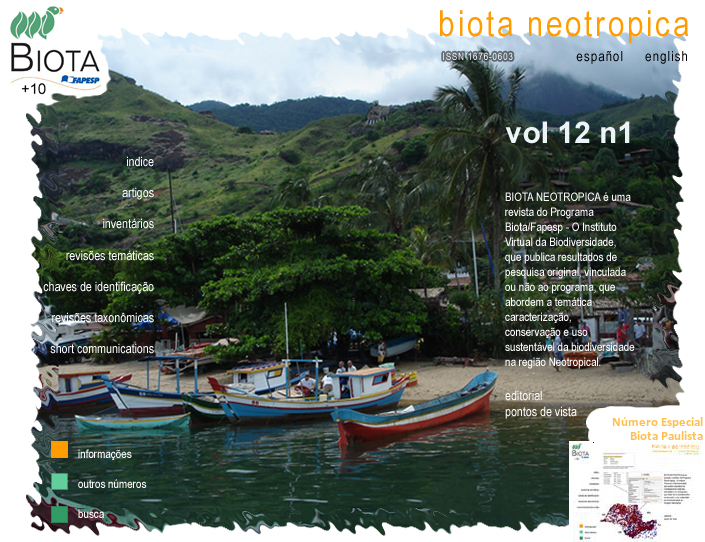 How to Cite
Pinto, I. de S., Tonini, J. F. R., Ferreira, A. L., & Falqueto, A. (2012). A brief inventory of sand flies (Diptera, Psychodidae) from the National Forest of the Rio Preto, state of the Espírito Santo, southeastern Brazil. Biota Neotropica, 12(1). Retrieved from //www.biotaneotropica.org.br/BN/article/view/926
Section
Short Communications