New occurrence of Trichospilus diatraeae Cherian & Margabandhu, 1942 (Hymenoptera: Eulophidae) as a parasitoid of Spodoptera cosmioides Walker, 1858 (Lepidoptera: Noctuidae) in Brazil
Keywords:
Spodoptera cosmioides, polyphagia, biological control, pupal parasitoid, Trichospilus diatraeae
Abstract
Spodoptera cosmioides (Lepidoptera: Noctuidae) is a polyphagous species and feeds on many wild and cultivated plants. In Brazil, the crops of pineapple, cotton, rice, eggplant, onions, eucalyptus, bell pepper and tomato, among other vegetables, are considered to be host of the pest. However, despite the wide host range, its occurrence as a pest is reported related to imbalances caused by excessive use of broad-spectrum insecticides, which is causing pest resistance to insecticides. Because of this complexity, alternative control methods have been proposed, for example, biological control using parasitoids. Trichospilus diatraeae (Hymenptera: Eulophidae) is a gregarious pupal parasitoid species, preferably from the order Lepidoptera. This is the first report of T. diatraeae parasitizing pupae of S. cosmioides, parasitoid offers new prospects for biological control programs.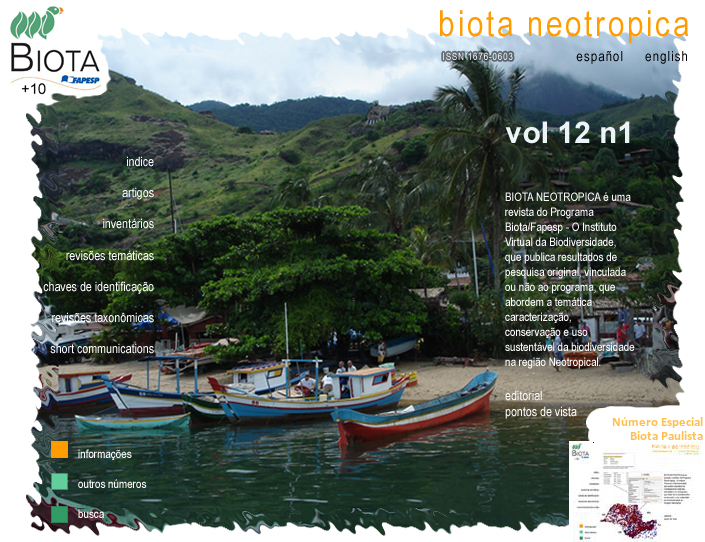 How to Cite
Zaché, B., Wilcken, C. F., Zaché, R. R. da C., & Souza, N. M. de. (2012). New occurrence of Trichospilus diatraeae Cherian & Margabandhu, 1942 (Hymenoptera: Eulophidae) as a parasitoid of Spodoptera cosmioides Walker, 1858 (Lepidoptera: Noctuidae) in Brazil. Biota Neotropica, 12(1). Retrieved from //www.biotaneotropica.org.br/BN/article/view/925
Section
Short Communications