Diet of Leptodactylus fuscus (Amphibia: Anura: Leptodactylidae) in the Pantanal of Miranda river, Brazil
Keywords:
Pantanal floodplain, food items, trophic ecology
Abstract
Amphibians are usually generalist predators, and their diet is influenced by extrinsic (e.g. food availability) and intrinsic factors (e.g. body size and skull shape). This study aims to describe the diet of adult males and females of Leptodactylus fuscus in the Pantanal of the Miranda river and to answer the following questions: i) Are prey's maximum size and number of food items explained by the anuran's body size? ii) Are richness of morphospecies and number of food items explained by frog sex? iii) Is there diet overlap between male and female? We recorded 62 food items, belonging to seven orders of Arthropoda, and one individual of Annelida. The diet of L. fuscus was dominated by Orthoptera, followed by Coleoptera, Araneae, Hymenoptera, Blattaria, Hemiptera and Diptera. Frog's body size did not influence prey size or number of food items consumed. The number of prey and richness of morphospecies did not differ between males and females. There was low diet overlap between the sexes. Our results provide evidence for the opportunistic and generalist feeding behavior of L. fuscus.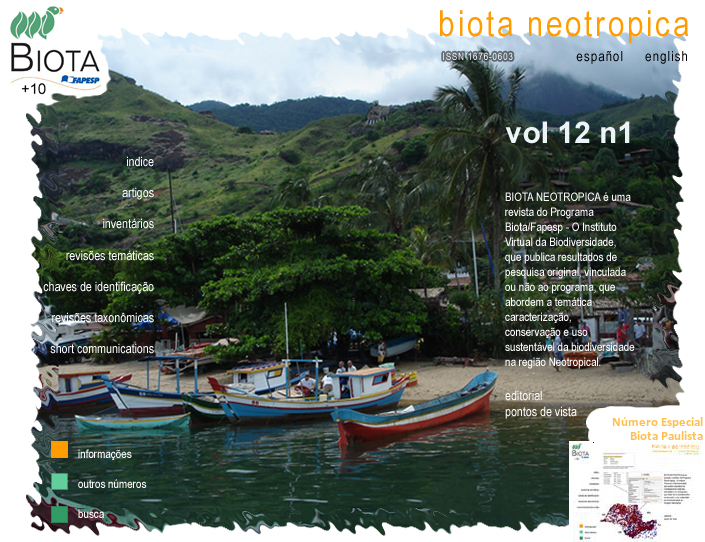 How to Cite
Ferreira, V. L. (2012). Diet of Leptodactylus fuscus (Amphibia: Anura: Leptodactylidae) in the Pantanal of Miranda river, Brazil. Biota Neotropica, 12(1). Retrieved from //www.biotaneotropica.org.br/BN/article/view/909