Fruit-eating fishes of Banara arguta (Salicaceae) in the Miranda River floodplain, Pantanal wetland
Keywords:
Brycon, diet, foraging behavior, frugivory, ichthyochory, Triportheus
Abstract
The role of fish as frugivorous and its ecological consequences are often neglected in ecological studies. However, the importance of the interaction between fish and plants is gaining force in scientific literature, and fish has been considered effective seed dispersers. The fruit-eating fish assemblage of Banara arguta (Salicaceae) was evaluated in Southern Pantanal wetlands. Nine species were reported consuming fruits, with different strategies to capture them. The distribution of B. arguta associated with the Pantanal floodplain and the presence of several species of fruit-eating fish, suggest that ichthyochory can be an important seed dispersal strategy to B. arguta.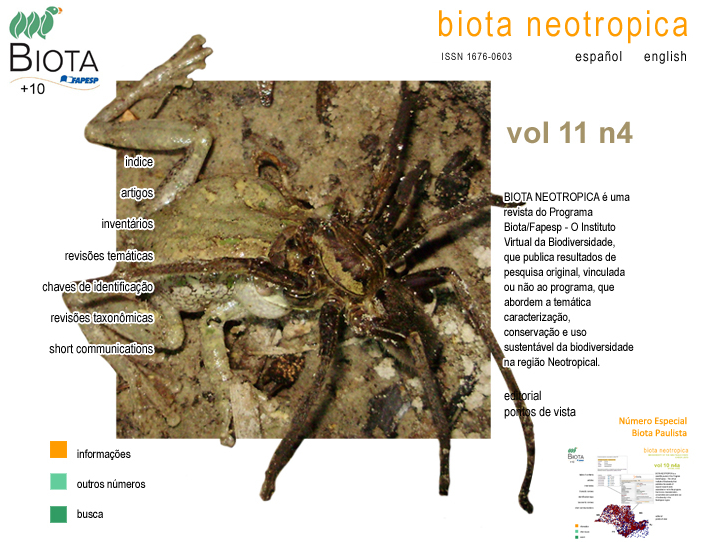 How to Cite
Costa-Pereira, R., Severo-Neto, F., Yule, T. S., & Pereira, A. P. T. (2011). Fruit-eating fishes of Banara arguta (Salicaceae) in the Miranda River floodplain, Pantanal wetland. Biota Neotropica, 11(4). Retrieved from https://www.biotaneotropica.org.br/BN/article/view/894
Section
Short Communications