The orchid bee fauna (Hymenoptera, Apidae) of a core area of the Cerrado, Brazil: the role of riparian forests as corridors for forest-associated bees
Keywords:
Euglossina, riparian forest, gallery forest, savanna, landscape ecology
Abstract
The composition of local orchid-bee faunas (Hymenoptera, Apidae, Euglossina) in open-vegetation domains is poorly known, making the ecology and biogeography of the group difficult to understand. The aim of this work was to answer the following questions: i) Is the orchid-bee fauna composition, species richness and abundance in the cerrado (Brazilian savanna) sensu stricto similar to that of riparian forests immersed in that domain? ii) Do species from neighboring forest domains use riparian forests as mesic corridors into the Cerrado? Two sites in cerrado s.s. and two in riparian forests were sampled monthly, one day per month, during one year (Nov/2003-Oct/2004) in northwestern Minas Gerais state, Brazil. Six aromatic compounds (β-ionone, 1,8-cineole, eugenol, methyl trans-cinnamate, methyl salicilate and vanillin) were exposed from 8:00 AM to 4:00 PM to attract orchid bees. The results suggest that: i) The composition of the orchid bee fauna in the two kinds of environments is the same; ii) Riparian forests apparently have no role as mesic corridors for penetration of forest-dependent euglossine species into the core of the Cerrado Domain.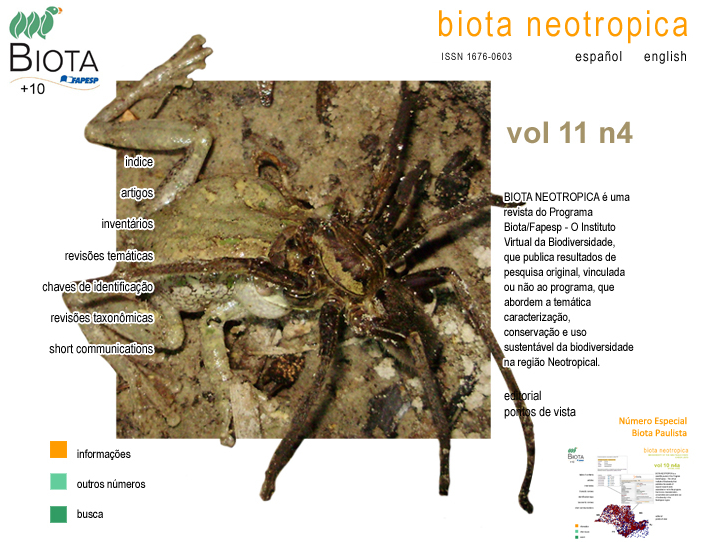 How to Cite
Faria, L. R. R., & Silveira, F. A. da. (2011). The orchid bee fauna (Hymenoptera, Apidae) of a core area of the Cerrado, Brazil: the role of riparian forests as corridors for forest-associated bees. Biota Neotropica, 11(4). Retrieved from https://www.biotaneotropica.org.br/BN/article/view/878