The avifauna of the Poço D'Anta Municipal Biological Reserve, Juiz de Fora, MG
Keywords:
bird community, avian inventory, Atlantic Forest, southeastern Brazil
Abstract
The Zona da Mata Mineira is located in the southeastern state of Minas Gerais, Brazil, in the Atlantic Forest domain, and it is a highly fragmented region, with many small and isolated patches, whose avifauna is poorly studied. The objective of this work was to survey the avifauna of the Poço D'Anta Municipal Biological Reserve (277 ha), a forest patch at Juiz de Fora county, southeastern Minas Gerais, determining its ecological traits and conservation status. The survey was conducted between March-September 2007 and March 2008-May 2009 using Mackinnon lists, mist-net captures and occasional observations. We identified 156 species, of which 44 (28%) are endemic to the Atlantic Forest and six (3.8%) are of conservation concern. Among the threatened species, five are forest dependent (Dysithamnus stictothorax, Drymophila ochropyga, Sporophila frontalis, Sporophila falcirostris, Cyanoloxia moesta). In general the community is characterized by birds with medium to low sensitivity to environmental perturbations. However, eight (5.1%) species with high sensitivity (Pulsatrix koeniswaldiana, Conopophaga melanops, Sclerurus scansor, Xiphorhynchus fuscus, Lepidocolaptes squamatus, Campylorhamphus falcularius, Anabazenops fuscus and Habia rubica) were identified. Moreover, some species once considered extinct in several other fragments in southeastern Minas Gerais were still present in the area. Insectivorous (39.4%, n = 61) and omnivorous (31.6%, n = 49) species were predominant. As a legally protected area and due to its extension, considering the regional characteristics, the Poço D'Anta Municipal Biological Reserve has an important role in harboring populations of birds that has facing persistence anthropogenic effects in the region. The local avifauna is subject to impacts such as running overs, invasions of exotic species and hunting, although there are proposals of mitigation measures in the management plan of the area. It is emphasized the character of urgency regarding the implementation of these measures in order to minimize the impacts suffered by birds.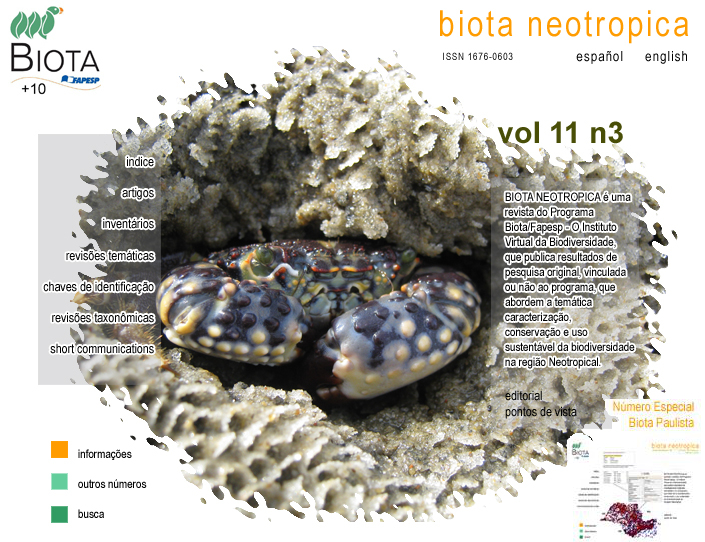 How to Cite
Manhães, M. A., & Loures-Ribeiro, A. (2011). The avifauna of the Poço D'Anta Municipal Biological Reserve, Juiz de Fora, MG. Biota Neotropica, 11(3). Retrieved from //www.biotaneotropica.org.br/BN/article/view/854