Microplankton dinoflagellates (Peridiniales, Prorocentrales) at the continental shelf and slope in Southern Brasil (winter 2005, summer 2007)
Keywords:
biodiversity, Dinophyceae, Prorocentrum, Protoperidinium, Southwest Atlantic
Abstract
This study aimed at identifying morpho-species of microplankton dinoflagellates (> 20 μm) of the order Peridiniales and Prorocentrales off Santa Marta Grande Cape, CSMG (SC, 28º 40' S) and Albardão-Chui, AC (RS, 34º 40' S) during oceanographic cruises conducted in winter 2005 and summer 2007. Plankton samples were obtained by vertical net (mesh size 20 μm) hauls preserved with formaldehyde 4% and analyzed using the inverted microscope equipped with a digital camera. The identification of Peridiniales species was based on the number and morphology of thecal plates enhanced with Calco Fluor White MR2 whenever necessary and the identification of Prorocentrales was based on cell size, shape, presence of apical processes, pore pattern and marks at the intercalary band. We identified 25 species, including Protoperidinium (11), Prorocentrum (6), Corythodinium (3), Podolampas (2), Oxytoxum (2) and Heterocapsa (1). Prorocentrum species were widely distributed on the continental shelf of southern Brazil, while Peridiniales species were mainly found off Albardão-Chui during winter, especially under the influence of the plume of La Plata River. Oxytoxum milneri was the first time recorded in southern Brazil, while Protoperidinium cassum var. cassum, P. curtipes and Heterocapsa triquetra, were first registered in Brazil.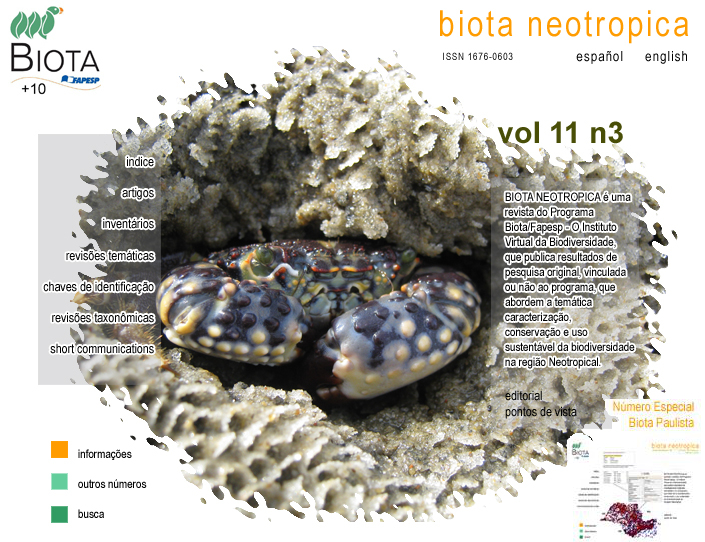 How to Cite
Islabão, C. A., & Odebrecht, C. (2011). Microplankton dinoflagellates (Peridiniales, Prorocentrales) at the continental shelf and slope in Southern Brasil (winter 2005, summer 2007). Biota Neotropica, 11(3). Retrieved from //www.biotaneotropica.org.br/BN/article/view/843