Reptiles of Serra Geral do Tocantins Ecological Station, Central Brazil
Keywords:
Cerrado, Squamata, lizards, snakes, amphisbaenas, diversity, Jalapão, conservation
Abstract
The South American Cerrado harbors a rich reptilian fauna with high number of endemics. However, knowledge of this diversity is still incipient in front of accelerated transformation of natural landscapes, which makes the domain a "hotspot" for study and conservation of global biodiversity. Studies on the reptile fauna of Cerrado are urgently needed for a better understanding of the processes that led to their origin and distribution and to support conservation planning. We used standard methods to sample two unexplored regions of the Serra Geral do Tocantins Ecological Station (EESGT), located in the Jalapão region of the Cerrado domain. We recorded 45 species of reptiles for the EESGT and surroundings, which represents high species richness, comparable to other well-sampled regions of the Cerrado. Accumulation curves and estimators indicate that sampled richness of lizards and amphisbaenas are close to real values. However, current sampling underestimates snake richness. The non-random distribution of species in the landscape agrees with previous evidence suggesting differential use of habitats by Cerrado reptiles. Combining the results of this study with those of previous surveys conducted in the region, we recorded 88 species of reptiles for the Jalapão region with eight new records, including Bachia oxyrhina, a recent described species of this region. We found three general patterns of distribution: (1) species endemic of the Cerrado domain, (2) species shared with the domains of the South American diagonal of tropical open formations, (3) species widely distributed, also shared with forest ecosystems. Species of wide distribution prevails in the region, but there is large number of species typical of the Cerrado, possibly including five endemics to Jalapão, and there is an important contribution of the Caatinga fauna. The distribution of reptile species in local and regional scales shows the need to consider the landscape heterogeneity for adequate conservation planning in the Cerrado region. Because of the physical and biotic characteristics, EESGT has a key role in the preservation and knowledge of the diversity of Cerrado reptiles.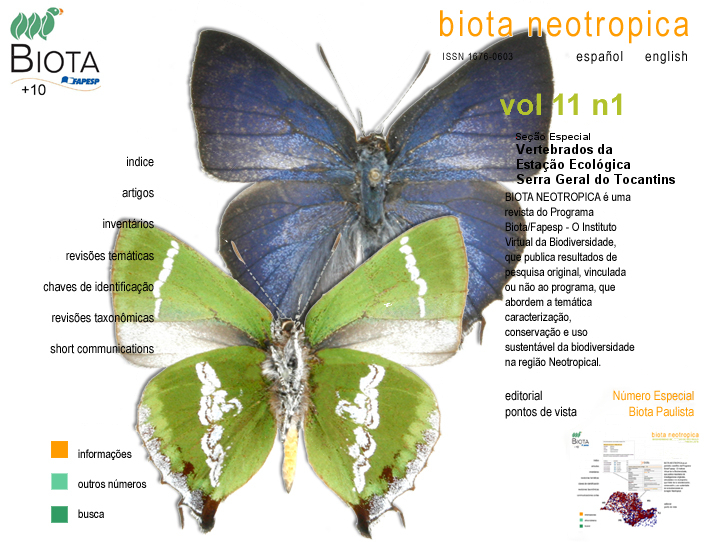 How to Cite
Recoder, R. S., Teixeira Junior, M., Camacho, A., Nunes, P. M. S., Mott, T., Valdujo, P. H., Ghellere, J. M., Nogueira, C., & Rodrigues, M. T. (2011). Reptiles of Serra Geral do Tocantins Ecological Station, Central Brazil. Biota Neotropica, 11(1). Retrieved from //www.biotaneotropica.org.br/BN/article/view/819