Key to the genera of Ephemerelloidea (Insecta: Ephemeroptera) from Brazil
Keywords:
Ephemerelloidea, nymphs, adults, illustrated key, Brazil
Abstract
A key to the Brazilian genera of Ephemerelloidea, nymphs and adults, belonging to the families Coryphoridae, Leptohyphidae and Melanemerellidae is presented. Currently, seven genera of this superfamily are known in Brazil. The Leptohyphidae is the most representative family, with five genera registered from the country, Leptohyphes Eaton, 1882, Leptohyphodes Ulmer, 1920, Traverhyphes Molineri, 2001, Tricorythodes Ulmer, 1920 and Tricorythopsis Traver, 1958. The families Coryphoridae and Melanemerellidae are monotypic, represented by Coryphorus Peters, 1981and Melanemerella Ulmer, 1920.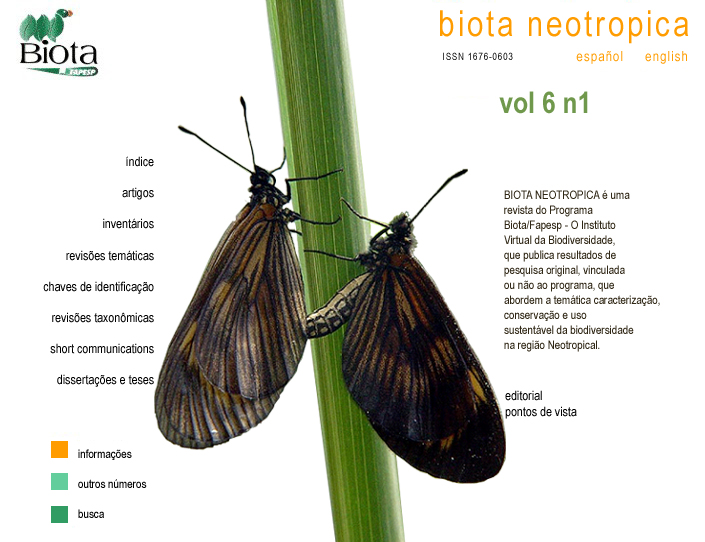 How to Cite
Dias, L. G., Salles, F. F., Francischetti, C. N., & Ferreira, P. S. F. (2006). Key to the genera of Ephemerelloidea (Insecta: Ephemeroptera) from Brazil. Biota Neotropica, 6(1). Retrieved from https://www.biotaneotropica.org.br/BN/article/view/79
Section
Identification Keys