An illustrated key to male Actinote from Southeastern Brazil (Lepidoptera, Nymphalidae)
Keywords:
butterfly, identification, genitalia, mimicry
Abstract
In certain times of the year, Actinote butterflies can be vastly abundant in Southeastern Brazil, thus representing conspicuous denizens of our fauna. Their wing coloration allows for the recognition of five major patterns, which probably resulted from mimicry. Furthermore, examination of series of field-collected and reared specimens clearly demonstrates a high intra-specific variation in wing color pattern. In concert, inter-specific resemblance (mimicry) and intra-specific variation make it difficult to discriminate Actinote species from each other. This key aims at providing a tool for identification of male Actinote. To that effect, we provide diagnostic characters and illustrations of wings and male genitalia for 22 species. We hope that the clear identification of these species will lead to the discovery of species yet unrecognized in Southeastern Brazil.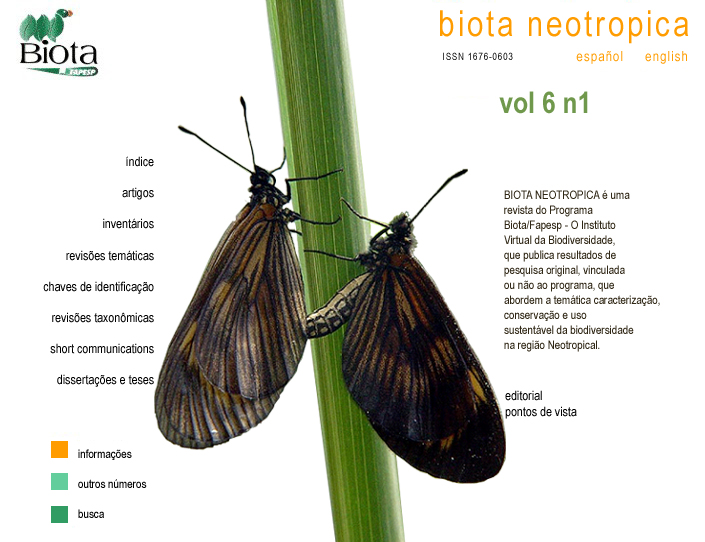 How to Cite
Francini, R. B., & Penz, C. M. (2006). An illustrated key to male Actinote from Southeastern Brazil (Lepidoptera, Nymphalidae). Biota Neotropica, 6(1). Retrieved from https://www.biotaneotropica.org.br/BN/article/view/77
Section
Identification Keys