Bats (Mammalia, Chiroptera) in urban forest fragments in Juiz de Fora City, Minas Gerais State, southeastern Brazil
Keywords:
Conservation, urban parks, forest fragmentation, Atlantic Forest, inventory
Abstract
We present the results of bats' inventories carried out in three areas of urban forests (78, 9 and 2 ha) located in Juiz de Fora City. Between May 2001 and May 2002, 209 bats were captured and marked, representing seven common species in urban habitats (Artibeus lituratus, Platyrrhinus lineatus, Anoura caudifer, Sturnira lilium, Carollia perspicillata, Myotis nigricans and Molossus molossus). Only A. lituratus occurred in all patches, besides been the most abundant in all of them, indicating its high resistance to fragmentation. Two individuals of this species were recaptured in a different area from the one which they had been marked previously. We suggested that the studied areas have significant value for the maintenance of some bats, performing as "stepping stones", uniting populations, as well as fragments.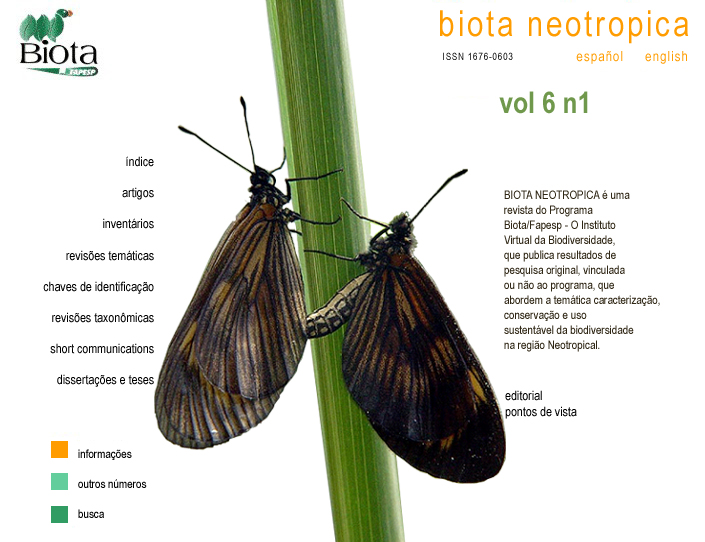 How to Cite
Barros, R. S. M. de, Bisaggio, E. L., & Borges, R. C. (2006). Bats (Mammalia, Chiroptera) in urban forest fragments in Juiz de Fora City, Minas Gerais State, southeastern Brazil. Biota Neotropica, 6(1). Retrieved from https://www.biotaneotropica.org.br/BN/article/view/76