Floristic composition of shrubby-arboreal component in three riparian vegetation areas in the State of Paraíba, semiarid region, Brazil
Keywords:
riparian forest, intermittent streams, floristic composition, species richness, caatinga
Abstract
Aimed in the present work to study the floristic composition of shrubby and tree in three riparian vegetation areas and compare with other study realized in the basin of the Taperoá River, in the paraiban semiarid. A floristic survey was carried out from January 2004 throughout June 2006, covering riparian areas along the intermittent streams Cazuzinha (7° 26' 13" S and 36° 54' 30" W; 564-579 m of altitude), Mares (7° 31' 53" S and 36° 33' 39" W; 536-550 m of altitude), and Farias (7° 25' 33" S and 36° 29' 21" W; 454-470 m of altitude). The floristic survey carried out in all three areas, generated a total of 91 species, of which, 68 were collected along Cazuzinha stream, 62 along Mares stream, and 56 along Farias stream. The families with the largest number of species and genera identified were: Fabaceae, Euphorbiaceae and Rubiaceae. Of the total of species registered for the three areas, 15 are present in the known lists of riverine bushes in other states of Brazil, 26 are endemic of the Caatinga (Brazilian northeastern savanna) and 10 of them had been exclusive of the researched area. The analysis of floristic similarity of the riparian areas of the present study in a comparison with other five surveys performed formerly showed that the highest floristic identity is related mainly to geographical distance and to the soil use and land occupancy.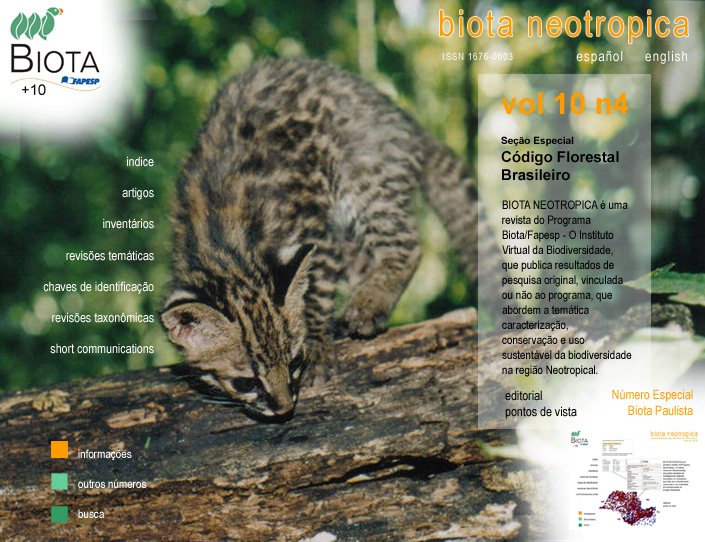 How to Cite
Lacerda, A. V. de, Barbosa, F. M., Soares, J. J., & Barbosa, M. R. de V. (2010). Floristic composition of shrubby-arboreal component in three riparian vegetation areas in the State of Paraíba, semiarid region, Brazil. Biota Neotropica, 10(4). Retrieved from https://www.biotaneotropica.org.br/BN/article/view/741