Tadpoles of three species of Aplastodiscus Lutz, 1950 (Anura - Hylidae) occurring in the State of Bahia, Brazil
Keywords:
Aplastodiscus albosignatus group, morphology, Atlantic Rain Forest, anuran larvae, stream
Abstract
We studied the morphology of tadpoles of Aplastodiscus sibilatus (Cruz, Pimenta, & Silvano, 2003); Aplastodiscus cavicola (Cruz & Peixoto, 1985) and Aplastodiscus ibirapitanga (Cruz, Pimenta, & Silvano, 2003) and compared it with tadpoles of other species of Aplastodiscus albosignatus group available in literature. The results reinforce one of the two species groups of A. albosignatus complex, which includes A. cavicola, A. ibirapitanga and A. leucopygius. Tadpoles of species of this group have anterior lip gap, three indentations in the posterior lip, labial tooth row formula 2(2)/4(1) and internarial distance greater than the distance between inner margins of the eyes orbits. For another group, in which A. sibilatus is included, we did not observe any characteristic in common. Tadpoles of A. sibilatus differ from those of other Aplastodiscus species by the dental formula variable 4(1,4)/7(1), 4(1,4)/6(1), 4(1,2,4)/6(1) e 3(1,3)/5(1).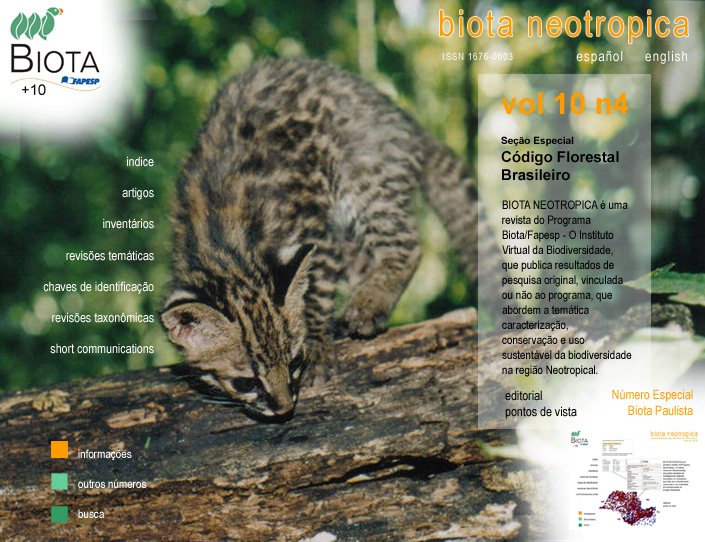 How to Cite
Mercês, E. de A., & Juncá, F. A. (2010). Tadpoles of three species of Aplastodiscus Lutz, 1950 (Anura - Hylidae) occurring in the State of Bahia, Brazil. Biota Neotropica, 10(4). Retrieved from //www.biotaneotropica.org.br/BN/article/view/732