The period of contamination with petroleum influences the regrowth of Echinochloa polystachya (HBK) Hitchcock in varzea soil in Central Amazon?
Keywords:
floodplains, aquatic herbaceous plants, light petroleum, Urucu
Abstract
Several factors may influence the impact of oil on the environment. However, although it is understood that the effect of pollutants may change throughout the year according to seasonal variations in environmental parameters, this effect is poorly studied in the tropical region. The effects of Urucu's crude oil on the vegetative propagation and growth of Echinochloa polystachya were evaluated in a 63 days period, in two experiments, "A" (July-September) and "B" (September-November) planting the species in a greenhouse. In both experiments parts of stems were placed in 2 L of várzea soil contaminated by 6 oil doses, ranging from 0 to 0.231 L oil m-2 soil. In response to dosage increase there was a decrease of total biomass, ratio of live /total biomass, the leaf length and number of leaves. The period of planting influenced the response of plants to the dosage applied due to climate change, with negative effects in the "B" period of higher temperatures. We concluded that the exposure period influence the vegetative propagation and growth of the seedlings, being a spill in the period of the higher temperatures more dangerous for this specie.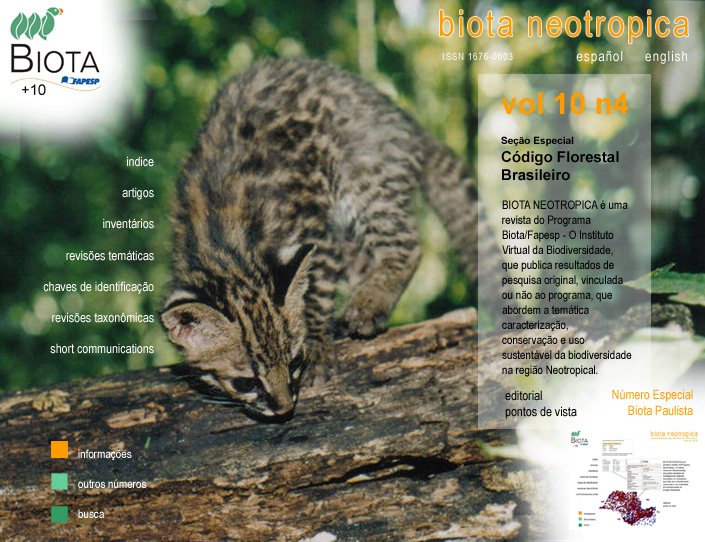 How to Cite
Lopes, A., & Piedade, M. T. F. (2010). The period of contamination with petroleum influences the regrowth of Echinochloa polystachya (HBK) Hitchcock in varzea soil in Central Amazon?. Biota Neotropica, 10(4). Retrieved from //www.biotaneotropica.org.br/BN/article/view/729