Reproductive phenology and fruit productivity of Oenocarpus bataua (Mart.) in flooded forests in the Chocó Biogeographic region, Colombia
Keywords:
palm tree, flowering, fruiting, synchrony, reproductive cycle
Abstract
Oenocarpus bataua (Mart.) is a palm species forming highly dense stands in flooded forests of the Chocó Biogeographic region. This species is considered promising because its fruits contain protein and high quality oil; therefore, periodic harvests of fruits are a potential source of food and income to local communities and could contribute to improve their living conditions. We studied the reproductive phenology and productivity of fruits of this species in two forest types: mono-dominant stands, called locally "pure milpesal"-MP (occasionally flooded), and more heterogeneous forests, called "mixed murrapal"-MM (periodically flooded), with specific densities of 278 and 82 individuals.ha-1; respectively. In each forest type, we established a block with 12 plots of 20 × 25 m, where the reproductive palms were labeled (166 in MP and 49 in MM). Every other week, from November 1999 until December 2001 (26 months) and from November 2006 until May 2009 (31 months), the phenological state of each previously labeled palm was recorded. The phenological behavior was quantified using the Activity Index and the observed proportions of each phenophase along time were evaluated with different regression models. According to these models, a phenological cycle of the species at the population level lasts about 4 years. We could not find any relationship between rainfall and phenological variables; therefore, the phenological cycle appears to respond to endogenous factors. The production peak of ripe fruits in the population occurred every 34 months in 47 and 26% in all palms in MP and MM. Fruit productivity per cycle was 3014 and 330 kg.ha-1; respectively.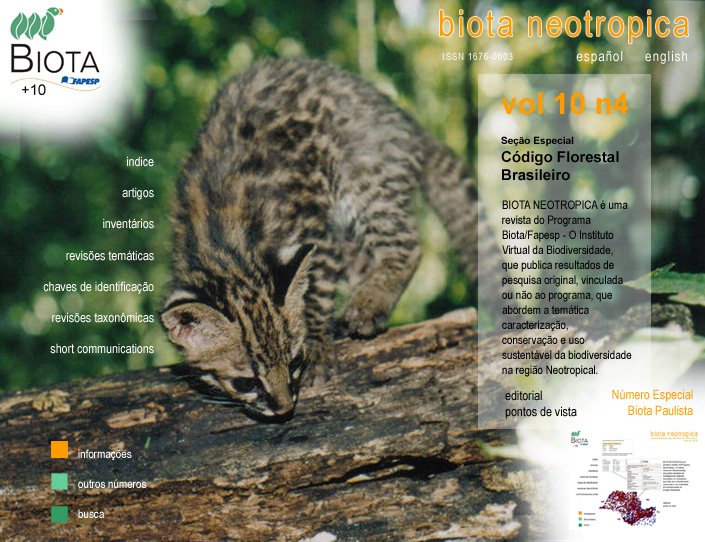 How to Cite
Moreno, F. (2010). Reproductive phenology and fruit productivity of Oenocarpus bataua (Mart.) in flooded forests in the Chocó Biogeographic region, Colombia. Biota Neotropica, 10(4). Retrieved from //www.biotaneotropica.org.br/BN/article/view/724