Potencial impacts of changes in the Forest Law in relation to water resources
Keywords:
watersheds, riparian forests, wetlands, hydrological cycle, biogeochemical cycles, water quality, water quantity
Abstract
Mosaics of vegetation, riparian forests, and wetlands have an important quantitative and qualitative role on the hydrological cycle. Riparian forests protect the water quality of rivers, lakes and reservoirs. Wetlands control floods, sedimentation and regulate the water quality by enhancing processes such as denitrification, phosphorus and heavy metal retention. Both ecosystems of transition are fundamental. The removal of wetlands and forests (riparian and mosaics of vegetation) affects environmental services of these ecosystems, causing loss of economic assets of the capital natural and accelerating degradation of rivers, lakes, reservoirs and the watersheds. Protection of these ecosystems of transition is thus fundamental for the development of agriculture. The loss of services affects society, human health, increasing costs of recovery and deteriorating human-ecological relationships.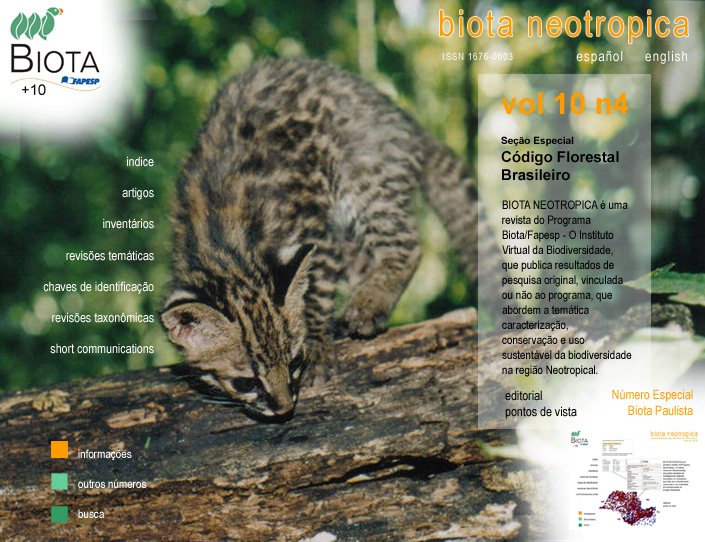 How to Cite
Tundisi, J. G., & Tundisi, T. M. (2010). Potencial impacts of changes in the Forest Law in relation to water resources. Biota Neotropica, 10(4). Retrieved from https://www.biotaneotropica.org.br/BN/article/view/720