Herpetofauna of the Carlos Botelho State Park, São Paulo State, Brazil
Keywords:
amphibians, reptiles, herpetology, diversity, Atlantic Forest, Carlos Botelho State Park
Abstract
The present work is a survey of the herpetofauna of Carlos Botelho State Park (CBSP), located in the region of Serra de Paranapiacaba, State of São Paulo, Brazil. Data were gathered from specimens collected in six areas within the park during a period of 76 days distributed in one year, and from three Brazilian scientific collections. We also offer photographs and information on the biology and occurrence of species within the park and among Brazilian biomes. The herpetofauna of CBSP may be considered one of the most diverse in the State of São Paulo, with 65 species of amphibians and 59 species of reptiles recorded in the present study. From the 65 species of amphibia recorded, 84% (55 spp.) are endemic from forested areas of the Atlantic forest. We also distinguished different altitudinal patterns within the amphibian assemblage, with 46% being recorded only at altitudes above 500 m, while 9% are exclusive of areas under 400 m and 45% occur in all altitudes within the park. The reptile fauna of PECB is composed of 59 species, including 10 species of lizards, 48 snakes, and one chelonian. Among the snakes collected at the CBSP, the Lancehead Bothrops jararaca was the most frequent, with 26,9% (N = 14) of the total of the collected specimens. Species that are considered difficult to sample, such as Echinanthera cephalostriata (13,5%; N = 7) and Taeniophallus affinis (7,7%; N = 4), were also numerous in PECB. Among lizards, Enyalius iheringii was the most abundant species, representing 50% (N = 16) of sampled specimens. We also performed a cluster analysis comparing 25 amphibian assemblages from different localities in the Atlantic Forest, and including the PECB, which resulted in the clustering of four main groups. The anurofauna of PECB presented high similarity with the assemblages of Jacupiranga (0,68) and Intervales (0,66) State Parks. These places are geographically close and constitute one of the largest preserved forest fragments of Atlantic rainforest in Brazil. The present work provides at the first time a list of reptiles for the CBSP, and complements the knowledge about the amphibian fauna at the CBSP.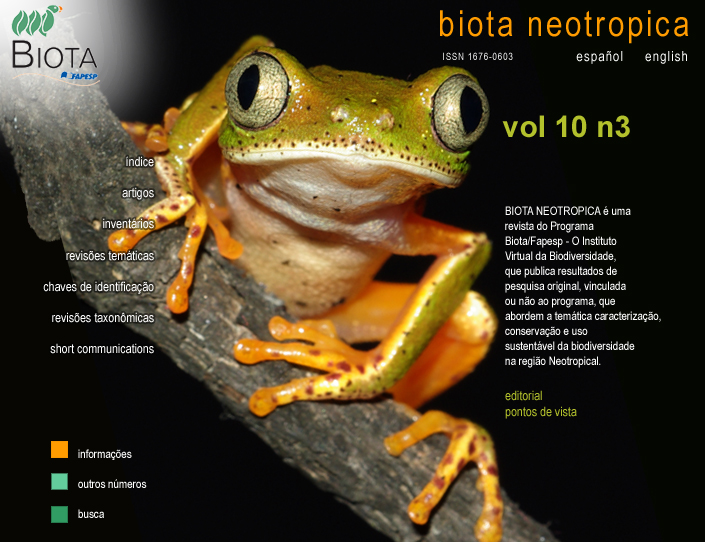 How to Cite
Forlani, M. da C., Bernardo, P. H., Haddad, C. F. B., & Zaher, H. (2010). Herpetofauna of the Carlos Botelho State Park, São Paulo State, Brazil. Biota Neotropica, 10(3). Retrieved from //www.biotaneotropica.org.br/BN/article/view/656