Ticks (Acari: Ixodidae) on domestic dogs in Serra de Caldas Novas State Park, Goiás: epidemiological aspects
Keywords:
canids, diseases, Amblyomma spp., distemper, conservation units
Abstract
We herein report tick (Acari: Ixodidae) infestation of four domestic dogs wandering inside Serra de Caldas Novas State Park, Goiás. Twenty seven ticks were collected from these hosts along nine days in November 2008. Ticks were identified as adults of Amblyomma cajennense, Amblyomma ovale, Amblyomma tigrinum and Rhipicephalus sanguineus as well as Amblyomma spp. nymphs. One of the dogs displayed facial myoclonus, a symptom of canine distemper. Such disease is a serious viral and contagious disease of dogs and also of several wild animals. Overall tick species found on dogs clearly showed the transit of these hosts between the natural areas of the park and anthropic areas, urban or rural. Such situation illustrates the potential of dogs to transmit contagious and vector-borne diseases to wild canids. Our results reinforce the importance of control of dogs living free without responsible owner, to the Brazilian fauna conservation, particularly close to conservation units.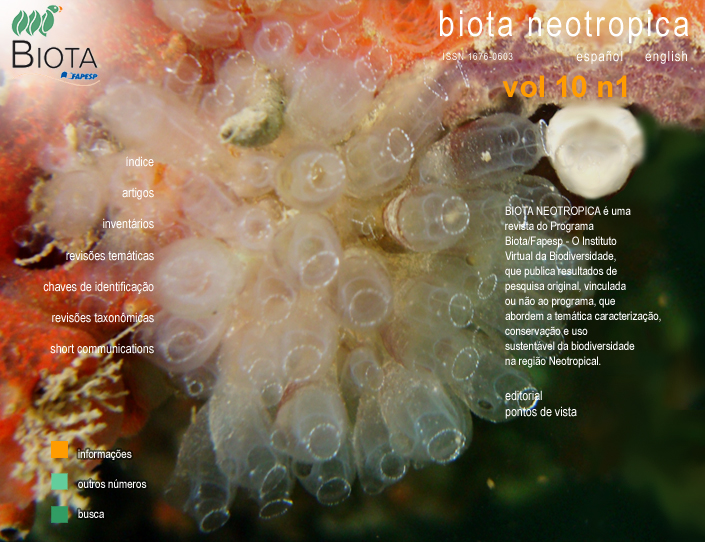 How to Cite
Queirogas, V. L. de, Oliveira, L. M. de, Marques, R. L., Oliveira, D. S. F., & Szabó, M. P. J. (2010). Ticks (Acari: Ixodidae) on domestic dogs in Serra de Caldas Novas State Park, Goiás: epidemiological aspects. Biota Neotropica, 10(1). Retrieved from //www.biotaneotropica.org.br/BN/article/view/628
Section
Short Communications