Inventory of ascidians (Tunicata, Ascidiacea) from the National Park La Restinga, Isla Margarita, Venezuela
Keywords:
Urochordata, taxonomy, South Caribbean, mangrove, coastal lagoon, conservation, bioinvasion
Abstract
Although ascidians form a conspicuous part of sessile assemblages in the Caribbean, no specialized inventories have been developed in Venezuela, except for a list of 15 species reported from Margarita Island (1984). Here we present the results of a taxonomic workshop held in the Universidad de Oriente, Boca del Rio, Margarita Island during April 20-25 of 2009, sponsored by the NaGISA-Caribbean Sea program. La Restinga National park was surveyed and we found 29 species belonging to 19 genera and 10 families. The most abundant colonial species were Clavelina oblonga, Aplidium accarense, Polyclinum constellatum, Distaplia bermudensis, Symplegma rubra, S. brakenhielmi, Botrylloides nigrum and Ecteinascidia turbinata. Among the solitary ascidians Phallusia nigra, Ascidia curvata, Microcosmus exasperatus, Styela canopus, Styela sp.1 and Styela sp. 2 were the most abundant. The ascidian diversity in this lagoon is one of the highest for similar habitats in the Caribbean and seven species are new registers for Venezuela (Ascidia curvata, Ecteinascidia styeloides, Aplidium accarense, Distaplia stylifera, Trididemnum orbiculatum, Symplegma rubra, and S. brakenhielmi). One point of concern for the conservation of la Restinga National Park is the presence of possible introduced species, and some management procedures are suggested.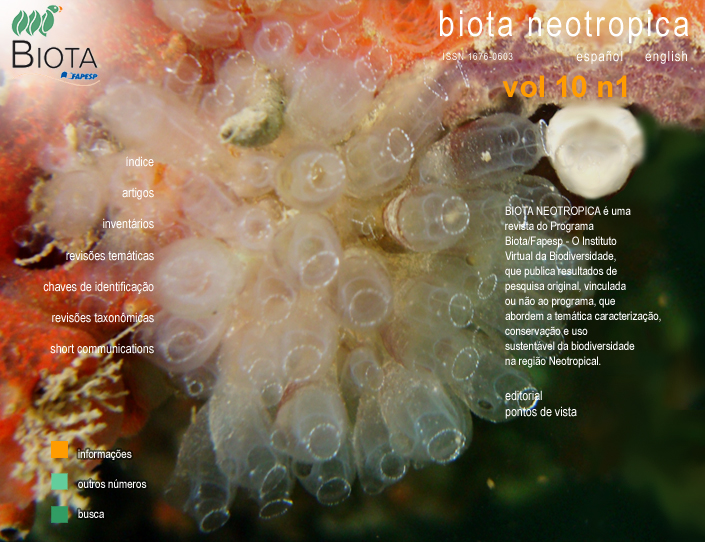 How to Cite
Rocha, R. M., Guerra-Castro, E., Lira, C., Pauls, S. M., Hernández, I., Pérez, A., Sardi, A., Pérez, J., Herrera, C., Carbonini, A. K., Caraballo, V., Salazar, D., Diaz, M. C., & Cruz-Motta, J. J. (2010). Inventory of ascidians (Tunicata, Ascidiacea) from the National Park La Restinga, Isla Margarita, Venezuela. Biota Neotropica, 10(1). Retrieved from //www.biotaneotropica.org.br/BN/article/view/617