Predictive model of survival of the Golden Mussel (Limnoperna fortunei) in relation to variations of salinity in the Laguna dos Patos, RS, Brazil
Keywords:
exotic species, invasive mussel, biological invasion, logistic regression
Abstract
Limnoperna fortunei (golden mussel), a freshwater bivalve native to Southeast Asia, invaded southern South America around 1991. Using species' occurrence records and salinity in different seasons in Laguna dos Patos, RS, Brazil, we predict survival probabilities in different regions of the lagoon during the different seasons of the year. We fitted the data to a logistic regression model. A total of 26 presence records (live, dead) of L. fortunei and salinity at those locations were obtained from the literature for the Laguna dos Patos in the period 2001-2004. Additional data on salinity were used to interpolate salinity values to all regions of the lagoon. The logistic regression model shows that survival decreases as salinity increases. The model predicted high survival probability of the species during periods of low salinity (austral winter) in the limnic, pre-limnic and estuarine regions of the lagoon. During the high salinity period (summer), the species is able to survive only in the limnic and pre-limnic region of the lagoon. These data suggest that control measures should be carried out most effectively during the summer.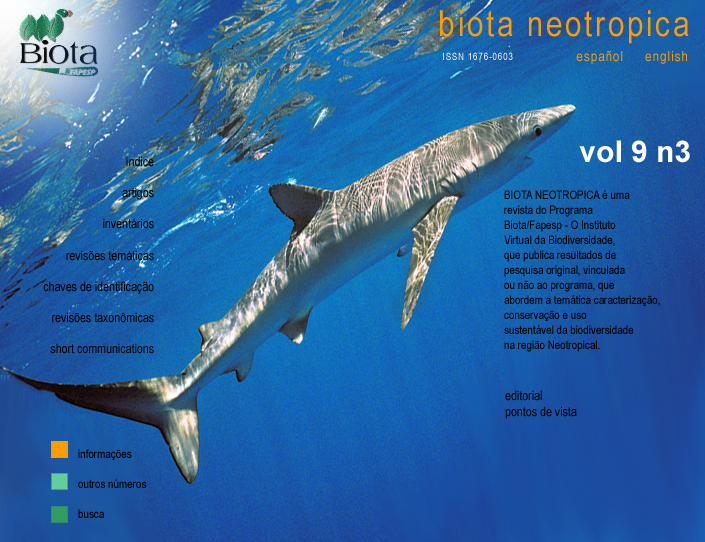 How to Cite
Barbosa, F. G., & Melo, A. S. (2009). Predictive model of survival of the Golden Mussel (Limnoperna fortunei) in relation to variations of salinity in the Laguna dos Patos, RS, Brazil. Biota Neotropica, 9(3). Retrieved from //www.biotaneotropica.org.br/BN/article/view/551
Section
Short Communications