Increasing the botanical collecting density at the Alto Paranapanema Basin region: Floristic survey of the State Forest and Ecological Station of Paranapanema
Keywords:
Atlantic forest, Semideciduous forest, biodiversity assessment, collecting effort, life forms
Abstract
The need for increasing the botanical collecting effort at the national scale, as to aid in the identification of priority areas for conservation as to improve the knowledge about the national biota, has been highlighted in several recent analyses concerning the Brazilian biodiversity. For the plants, the collecting density at the national scale (0.44 dried specimens/km²) is well bellow the minimum for a complete knowledge about the flora (3 dried specimens/km²) or even for an assessment of the richness of a given region (1 dried specimen/km²). Recent analysis revealed that even in the South and Southwest regions, where the infra-structure is better and the number of botanists greater, the collecting density is inadequate. In the São Paulo state, some regions have been considered poorly collected. The Alto Paranapanema basin is one of these regions. This paper presents the results of a botanical inventory at the Paranapanema municipality conservation units (23º 32' 02" S and 48º 45' 29" W) and is part of a broader project which aims to contribute for an increase in the botanical collecting density at that region. The State Forest and the Ecological Station of Paranapanema have 900 ha of Seasonal Semideciduous Forest. The pre-existing trails and the trails established for this research were visited monthly between June 2007 and July 2008. 693 fertile specimens were collected and 489 species were identified, belonging to 294 genus and 98 families, according to the following distribution: Myrtaceae (37 species), Fabaceae-Faboideae (32), Rubiaceae (28), Bignoniaceae (23), Asteraceae (20), Lauraceae (17), Apocynaceae (15), Melastomataceae (13), Euphorbiaceae, Malvaceae e Fabaceae-Mimosoideae (12 each). Fifteen species are under extinction risk. The distribution of the species among the life forms reveals 291 trees (59.5%), 72 lianas (14.7%), 58 shrubs (11.9%), 45 herbs (9.2%), 19 epiphytes (3.9%) and 4 hemiparasites (0.8%). The collecting density in the municipality of Paranapanema rose from 0.027 to 0.71 dried specimens/km².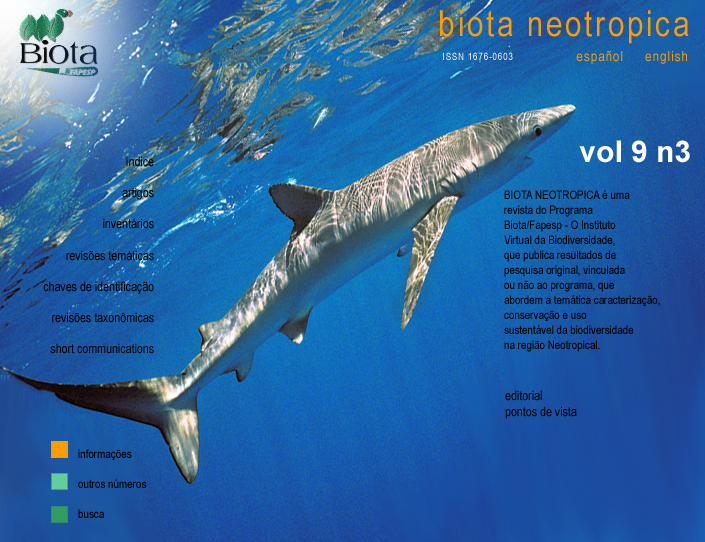 How to Cite
Cielo-Filho, R., Baitello, J. B., Pastore, J. A., Aguiar, O. T. de, Souza, S. C. P. M. de, Toniato, M. T. Z., Lima, C. R. de, & Ribeiro, A. P. (2009). Increasing the botanical collecting density at the Alto Paranapanema Basin region: Floristic survey of the State Forest and Ecological Station of Paranapanema. Biota Neotropica, 9(3). Retrieved from https://www.biotaneotropica.org.br/BN/article/view/540