Similarity of the bat fauna (Mammalia) in Serra Negra, Rio Preto and Santa Bárbara do Monte Verde municipalities, Minas Gerais, with other localities of Atlantic Forest
Keywords:
Atlantic forest, bat diversity, highland forest, southeastern Brazil
Abstract
The southern slope of the Serra Negra region is located between the Rio Preto and Santa Bárbara do Monte Verde municipalities, state of Minas Gerais. The region is a mountain chain inserted in the Atlantic rainforest domain. The studies were conducted in a rainforest at elevations of 800-1,200 m, where bats were captured in mist-nets installed at the ground level in the interior and edges of the forest. After 14 monthly samplings and total capture effort of 22,140 m²r.h, 246 bats belonging to Phyllostomidae (12 species) and Vespertilionidae (3 species) were captured. Sturnira lilium was the most frequently captured species, followed by Carollia perspicillata, Desmodus rotundus and Artibeus lituratus (33.7, 21.1, 19.1 and 16,3% of the captures, respectively). Cluster Analysis including Serra Negra and bat checklists of other patches of Atlantic forest revealed that Serra Negra is more similar to the Serra dos Órgãos, State of Rio de Janeiro, southeastern Brazil, than the other areas.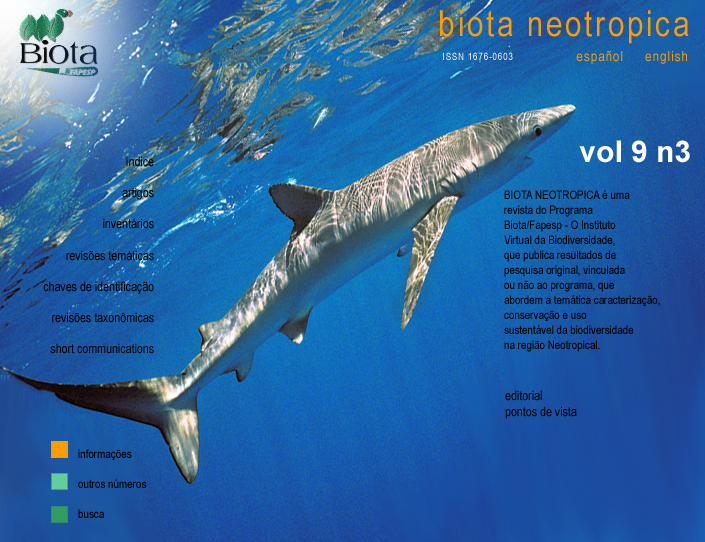 How to Cite
Nobre, P. H., Rodrigues, A. dos S., Costa, I. de A., Moreira, A. E. da S., & Moreira, H. H. (2009). Similarity of the bat fauna (Mammalia) in Serra Negra, Rio Preto and Santa Bárbara do Monte Verde municipalities, Minas Gerais, with other localities of Atlantic Forest. Biota Neotropica, 9(3). Retrieved from //www.biotaneotropica.org.br/BN/article/view/531